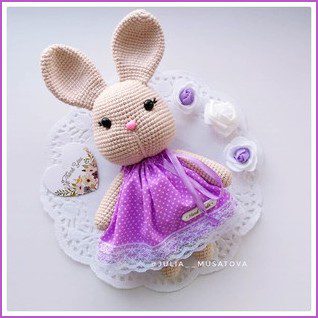 Hello dear Amigurumi Followers
Today we share one free amigurumi crochet pattern again for you. As you know we share new amigurumi free patterns every day. The main crochets are amigurumi gazelles, amigurumi bears, amigurumi pola, amigurumi pandas, amigurumi penguins, amigurumi giraffes, amigurumi llama, amigurumi pigs, amigurumi bunny, amigurumi clowns, amigurumi lambs, amigurumi bees, amigurumi unicorns, amigurumi dolls, amigurumi foxes, amigurumi penguins, amigurumi dinosaurs, amigurumi elephants, amigurumi hippos, amigurumi monkeys, amigurumi cats, amigurumi dogs and more …
Todays daily new amigurumi free crochet pattern is Amigurumi Bunny in Dress.
I want to give you some informations about this pattern ;
MATERİALS:
Yarn: Yarnart jeans
hook: 2 mm
eyes: 10-12 mm
Filler for toys
Satin ribbon: 50 cm x 5 mm
lace: 40 cm
coton fabric: 40×40 cm
The size of the bunny is about 20 cm.
ABBREVİATİONS:
ch:chain
st: stitch
mr: magic ring
sc: single crochet
inc: increase (2 sc in the next st)
dec: decrease
ss: slip stitch
( )*6 : Repeat whatever is between the brackets the number of times stated
LEGS: (2 pcs)
1) Magic ring into 6 sc (6)
2) 6 inc (12)
3) (sc, inc)*6 (18)
4-18) sc in each st around (18) (15 rnds)

Connect the legs together by pulling 4 ch between the legs.
Knit the body in a circle.
BODY:
continue to knit in a circle.
In the process of knitting, we gradually fill the body with filler.
19-29) 42 sc (11 rnds)
30) (5 sc, dec)*6 (36)
31-32) sc in each st around (36)
33) (4 sc, dec)*6 (30)
34-35) sc in each st around (30)
36) (3 sc, dec)*6 (24)
37-38) sc in each st around (24)
39) (2 sc, dec)*6 (18)
40) (sc, dec)*6 (12)
TAİL:
1) Magic ring into 6 sc (6)
2) 6 inc (12)
3-5) sc in each st around (12)
6)6 dec (6)
ARMS: (2 pcs)
1) Magic ring into 6 sc (6)
2) (sc, inc)*3 (9)
3) (2 sc, inc)*3 (12)
4) (3 sc, inc)*3 (15)
5-21) sc in each st around (15) (21 rnds)
22) (3 sc, dec)*3 (12)
23) 6 dec (6)
HEAD:
1) Magic ring into 6 sc (6)
2) 6 inc (12)
3) (sc, inc)*6 (18)
4) (2 sc, inc)*6 (24)
5) (3 sc, inc)*6 (30)
6) (4 sc, inc)*6 (36)
7) (5 sc, inc)*6 (42)
8) (6 sc, inc)*6 (48)
9) (7 sc, inc)*6 (54)
10-15) sc in each st around (54) (6 rnds)
16) (8 sc, inc)*6 (60)
17) (sc, inc)*4, 5 sc, 2 inc, 5 sc, (inc, sc)*4, 32 sc (70)
Eyes fasten above the 17th row above the head. leaving 10 sts between them.
18-24) sc in each st around (70) (8 rnds)
25) (8 sc, dec)*7 (63)
26) (7 sc, dec)*7 (56)
27) (6 sc, dec)*7 (49)
28) (5 sc, dec)*7 (42)
29) (4 sc, dec)*7 (35)
30) (3 sc, dec)*7 (28)
Fill with the fiberfill.
31) (2 sc, dec)*7 (21)
32) (sc, dec)*7 (14)
EARS: (2 pcs)
1) Magic ring into 6 sc (6)
2) 6 inc (12)
3) (sc, inc)*6 (18)
4-6) sc in each st around (18)
7) (5sc, inc)*3 (21)
8-10) sc in each st around (21)
11) (5 sc, dec)*3 (18)
12-15) sc in each st around (18)
16) (4 sc, dec)*3 (15)
17-20) sc in each st around (15)
21) (3 sc, dec)*3 (12)
Fold the part in half and 6 sc
Ears do not fill
DRESS:
-2 fabric rectangles, each 20cm * 10cm.
-On the four sides do double hem (hiding the ends)
First, do the hem on the sides.
Then below, at the very top end.
at the very top end.
above will be to pass the ribbon.
-Then sew lace at the bottom.
-Then we sew two rectangles.On the sides from the bottom to the middle.
– At the top inside of the fold through all 2 parts of the dress skip the satin ribbon
– Will be tied to the side on one "shoulder" bunny.
We make at the top of the dress assembly in front and from behind.

More Amigurumi Bunny Ideas: