Hello dear Amigurumi Followers
Today we share Amigurumi Crochet Mushroom Free Pattern for you. As you know we share new free amigurumi pattern every day. The main crochets are gazelle, amigurumi bear, pola, crochet panda, penguin, giraffe, llama, pig, bunny, clown, lamb, bee, crochet unicorn, amigurumi doll, fox, penguin, dinosaur, crochet elephant, hippo, monkey, crochet cat, crochet dog and more …
Todays daily new amigurumi free crochet pattern is Amigurumi Crochet Mushroom.
I want to give you some informations about this amigurumi free pattern ; Crochet Mushroom.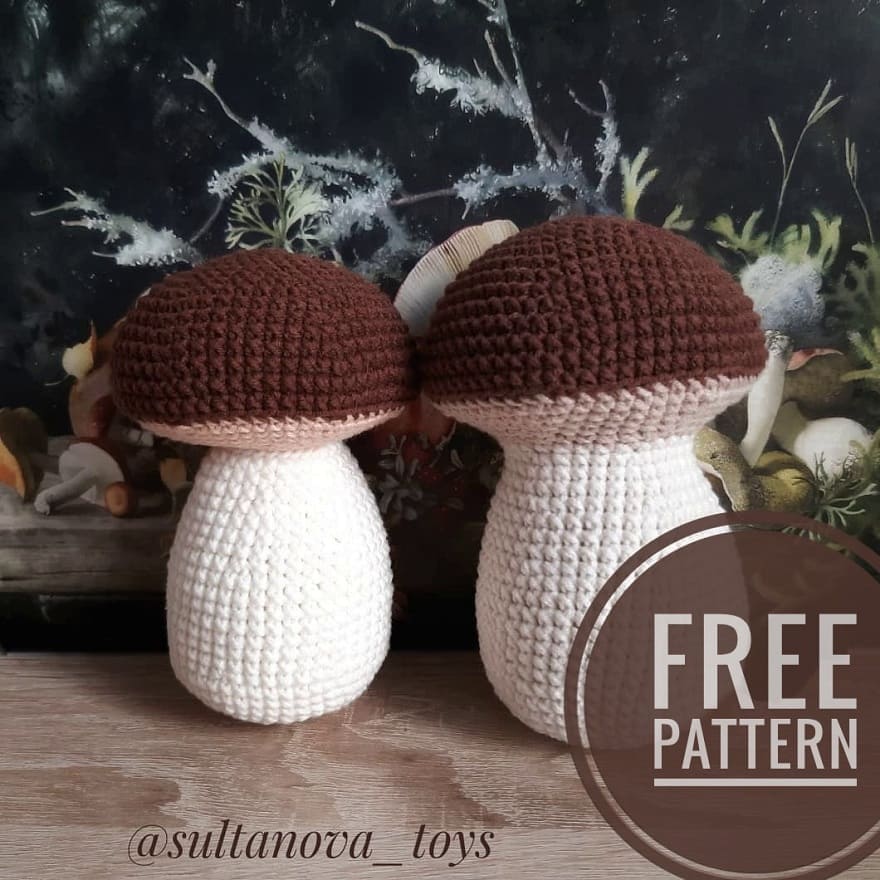 Learn how to crochet amigurumi mushroom using this free crochet pattern. The cap and stem of the mushroom are crocheted as a single piece. So you don't need to sew these parts together. Everything is very easy and suits to beginner level skills. The mushroom measures 11 cm (4.3") to 12 cm (4.7") tall.
Materials:
– Yarn: YarnАrt Jеаns (brown, beige and cream) or Αlіze Сotton Gοld, Gazzal Βаby Сottоn
– Hook size: 2.0 mm
– Tapestry needle
– Scissors
– Fiberfill
Abbreviations:
R = row
mc = magic circle (magic ring)
sc = single crochet
inc = 2 sc in the next stitch
dec = single crochet 2 stitches together
BLO = back loop only
F.o. = finish off
(12) = number of stitches you should have at the end of the round/row
( )*6 = repeat whatever is between the brackets the number of times stated
Free Crochet Mushroom Pattern
With brown yarn:
R 1: 6 sc in mc (6)
R 2: (inc)*6 (12)
R 3: (1 sc, inc)*6 (18)
R 4: (2 sc, inc)*6 (24)
R 5: (3 sc, inc)*6 (30)
R 6: (4 sc, inc)*6 (36)
R 7: (5 sc, inc)*6 (42)
R 8: (6 sc, inc)*6 (48)
R 9: (7 sc, inc)*6 (54)
R 10: 54 sc
R 11: (8 sc, inc)*6 (60)
R 12: (9 sc, inc)*6 (66)
R 13-15: 66 sc (3 rows)
Change to beige yarn:
R 16: BLO (4 sc, dec)*11 (55)
R 17: (3 sc, dec)*11 (44)
R 18: (2 sc, dec)*11 (33)
R 19: (9 sc, dec)*3 (30)
Change to cream yarn:
R 20: 30 sc
R 21: (4 sc, inc)*6 (36)
R 22-23: 36 sc (2 rows)
R 24: (5 sc, inc)*6 (42)
R 25-27: 42 sc (3 rows)
R 28: (6 sc, inc)*6 (48)
R 29-35: 48 sc (7 rows)
R 36: (7 sc, inc)*6 (54)
R 37-38: 54 sc (2 rows)
R 39: (7 sc, dec)*6 (48)
R 40: (6 sc, dec)*6 (42)
R 41: (5 sc, dec)*6 (36)
R 42: (4 sc, dec)*6 (30)
R 43: (3 sc, dec)*6 (24)
R 44: (2 sc, dec)*6 (18)
R 45: (1 sc, dec)*6 (12)
R 46: (dec)*6 (6)
F.o.

More Amigurumi Mushroom Ideas: