Hello dear Amigurumi Followers
Today we share Amigurumi Cute Donkey Free Pattern for you. As you know we share new free amigurumi pattern every day. The main crochets are gazelle, amigurumi bear, pola, crochet panda, penguin, giraffe, llama, pig, bunny, clown, lamb, bee, crochet unicorn, amigurumi doll, fox, penguin, dinosaur, crochet elephant, hippo, monkey, crochet cat, crochet dog and more …
Todays daily new amigurumi free crochet pattern is Amigurumi Cute Donkey.
I want to give you some informations about this amigurumi free pattern ; Cute Donkey.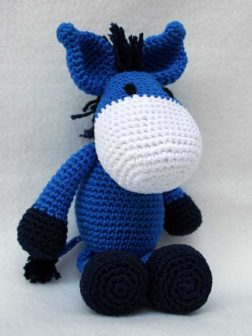 Amigurumi Cute Donkey Free Pattern
Head
White cotton
1. 5 ch
2. sc into 2nd ch from hook and into each of next 2 ch, 4 sc into last ch. Continue on the other side
of the chain: 2 sc, 3 sc into last ch (12 sts)
3. 1 inc, 3 sc, 3 inc, 3 sc, 2 inc (18 sts)
4. (2 sc, 1 inc)x6 (24 sts)
5. (3 sc, 1 inc)x6 (30 sts)
6. (4 sc, 1 inc)x6 (36 sts)
7. 36 sc
8. (5 sc, 1 inc)x6 (42 sts)
9-10. 42 sc
11. (13 sc, 1 inc)x3 (45 sts)
12-13. 45 sc
14. (13 sc, 1 dec)x3 (42 sts)
Blue cotton
15. (12 sc, 1 dec)x3 (39 sts)
16. (11 sc, 1 dec)x3 (36 sts)
17. (10 sc, 1 dec)x3 (33 sts)
18. 33 sc
19. (9 sc, 1 dec)x3 (30 sts)
20. (8 sc, 1 dec)x3 (27 sts)
21. 27 sc
22. (7 sc, 1 dec)x3 (24 sts)
23. (6 sc, 1 dec)x3 (21 sts)
24. (5 sc, 1 dec)x3 (18 sts)
25. (4 sc, 1 dec)x3 (15 sts)
26. (3 sc, 1 dec)x3 (12 sts)
27. 6 dec (6 sts)
Body
Blue cotton
1. 6 sc in a magic ring
2. 6 inc (12 sts)
3. (1 sc, 1 inc)x6 (18 sts)
4. (2 sc, 1 inc)x6 (24 sts)
5. (3 sc, 1 inc)x6 (30 sts)
6. (4 sc, 1 inc)x6 (36 sts)
7-9. 36 sc
10. (5 sc, 1 inc)x6 (42 sts)
11-13. 42 sc
14. (5 sc, 1 dec)x6 (36 sts)
15-16. 36 sc
17. (4 sc, 1 dec)x6 (30 sts)
18-19. 30 sc
20. (3 sc, 1 dec)x6 (24 sts)
21-22. 24 sc
23. (2 sc, 1 dec)x6 (18 sts)
24. 18 sc
25. (1 sc, 1 dec)x6 (12 sts)
Forelegs (make 2)
Dark blue cotton
1. 6 sc in a magic ring
2. 6 inc (12 sts)
3. (1 sc, 1 inc)x6 (18 sts)
4. back loops only, 18 sc
5-8. 18 sc
Blue cotton
9. (1 sc, 1 dec)x6 (12 sts)
10-14. 12 sc
15. (2 sc, 1 dec)x3 (9 sts)
16-20. 9 sc
21. 4 dec (5 sts)
Hind legs (make 2)
Dark blue cotton
1. 6 sc in a magic ring
2. 6 inc (12 sts)
3. (1 sc, 1 inc)x6 (18 sts)
4. (2 sc, 1 inc)x6 (24 sts)
5. back loops only, 24 sc
6-9. 24 sc
Blue cotton
10. (2 sc, 1 dec)x6 (18 sts)
11-13. 18 sc
14. (4 sc, 1 dec)x3 (15 sts)
15-19. 15 sc
20. 1 hdc, 1 sc, 7 sl st, 1 sc, 1 hdc, 4 dc
Ears (make 2)
Blue cotton
1. 8 sc in a magic ring
2. 8 sc
3. (3 sc, 1 inc)x2 (10 sts)
4. (1 sc, 1 inc)x5 (15 sts)
5. (2 sc, 1 inc)x5 (20 sts)
6-7. 20 sc
8. (3 sc, 1 inc)x5 (25 sts)
9-10 25 sc
11. (3 sc, 1 dec)x5 (20 sts)
12. (2 sc, 1 dec)x5 (15 sts)
13. (1 sc, 1 dec)x5 (10 sts)
Tail
Blue cotton
1. 8 ch
Make tail tuft with dark blue

Embroider eyes. Fluff and sew head, body, forelegs and hind legs. Make mane with dark blue

More Amigurumi Donkey Ideas: