Hello dear Amigurumi Followers
Today we share Amigurumi Keychain Goby Free Pattern for you. As you know we share new free amigurumi pattern every day. The main crochets are gazelle, amigurumi bear, pola, crochet panda, penguin, giraffe, llama, pig, bunny, clown, lamb, bee, crochet unicorn, amigurumi doll, fox, penguin, dinosaur, crochet elephant, hippo, monkey, crochet cat, crochet dog and more …
Todays daily new amigurumi free crochet pattern is Amigurumi Keychain Goby.
I want to give you some informations about this amigurumi free pattern ; Keychain Goby.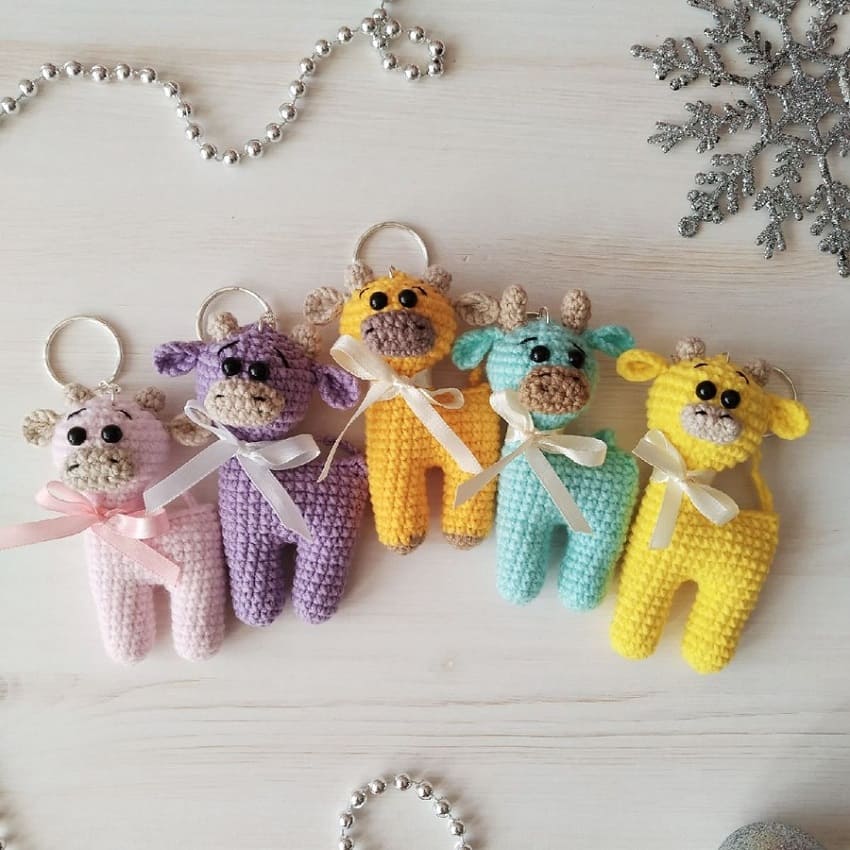 Required materials and tools:
– Yarn Gazzal Baby Cotton or Alize Cotton Gold: any main color (I have lilac), beige color for the muzzle
– Black Iris thread (for embroidering nostrils and eyebrows)
– Black half beads 5 mm (for peephole)
– Superglue (for sticking eyes)
– Hook 1.75 mm
– Scissors (for cutting threads)
– Keychain mount
– Nippers (for squeezing the key chain ring)
– Thick needle (for stitching parts)
– Filler – holofiber
– Satin ribbon 5 cm wide and 20-25 cm long (for decoration)
Symbols:
KA – amigurumi ring
stb – single crochet
pr – increasenice – beautifull
ss – connecting postin.
n. – air loop
(…)*6 – repeat the action in brackets 6 timesLegs, body and head are knitted in one piece.
We start knitting with legs.(color lilac)
Amigurumi Keychain Goby Free Pattern
First leg
1 row: 6 stb in KA (6)
2 row: (pr) * 6 (12)
3-7 rows: 12 stb
8th row: 6 stb, pr, 5 stb (13)
9 row: 13 stb
We fasten the thread, cut it. We knit the second leg as well, but we do not cut the thread, we knit 2 in. n. from the second leg and attach to the first leg with one stb.
10 row: 13 stb on one leg, 2 stb on 2 in. n. 13 stb on the other side, 2 stb in 2 c. item (30) I put a marker.
11-17 row: 30 stb
We stuff the legs.
Next is the neck:
18 row: knit 14 stb and connect the 14th loop with the 1st loop
19-21 row: 14 stbWe stuff the neck.
22nd row: (pr, dc) *7 (21)
23rd row: (sp, dc) *10, sp (32)
24th row: sc, 15 sc, sc, 13 sc (30)
25-28 row: 30 stb
29th row: (3 stb, sc)*6 (24)
We stuff our heads.
30th row: (2 stb, sc) *6 (18)
31st row: (1 stb, sc)*6 (12)
32 row: 6 dec (6)
Pull off the loops, fasten the thread, cut it off, hide the tip inside.
We attach the thread at the beginning of the body immediately after the neck and sew the body with connecting posts, at the end we knit a chain of 7 air loops, this will be the tail.We cut the thread and weave the tip with a needle.
Muzzle (beige)
7th century p.
1 row: From the 2nd loop from the hook we knit 5 stb, in the last loop 3 stb, on the other side 4 stb in a chain, in the last loop inc (14)
2nd row: 14 stbFasten the thread, cut, leave the tip for sewing.
Horns (beige color)
1 row: 6 stb in KA (6)
2nd row: 6 stb
Cut the thread, leave the tip for sewing.
Ears (purple or beige)
1 row: 6 stb in KA (6)
2 row: (pr) * 6 (12)
Fold the inner side of the other to the other and knit through two sides 1 ss, cut the thread, leave the tip for sewing.
We sew the muzzle, stepping back from the crown of the head 7 rows.
We sew the horns, stepping back from the top of the head 2 rows, immediately sew the ears under the horns.
We glue the eyes immediately above the muzzle, embroider the nostrils and eyebrows.
We decorate the neck with a ribbon bow.
We fix the keychain mount.
The bull is ready!

More Amigurumi Keychain Ideas: