Hello dear Amigurumi Followers
Today we share Amigurumi Little Hedgehog Keychain Free Pattern for you. As you know we share new free amigurumi pattern every day. The main crochets are gazelle, amigurumi bear, pola, crochet panda, penguin, giraffe, llama, pig, bunny, clown, lamb, bee, crochet unicorn, amigurumi doll, fox, penguin, dinosaur, crochet elephant, hippo, monkey, crochet cat, crochet dog and more …
Todays daily new amigurumi free crochet pattern is Amigurumi Little Hedgehog Keychain.
I want to give you some informations about this amigurumi free pattern ; Little Hedgehog Keychain.

The finished toy can be used as a keychain. From the master class you will also learn how to tie a green leaf to decorate an amigurumi hedgehog.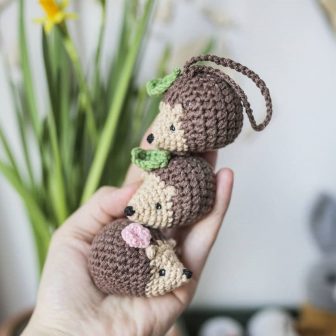 Materials and tools:

– YarnArt Jeans or Alize Cotton Gold yarn in brown, beige, black and green
– Hook 2.25 mm
– White sewing thread for the whites of the eyes
– Big eye needle
– Scissors
– Filler
Legend:
KA – amigurumi ring
sc – single crochet
vp – air loop
ss – connecting post
CCH – double crochet
PSSN – double crochet
PR – increase
UB – decrease
Amigurumi Little Hedgehog Keychain Free Pattern
Body
We start knitting with brown yarn:
1 row: 6 sb in KA (6)
2 row: PR * 6 (12)
3 row: 3 sbn, 6 PR from PSSN, 3 sbn (18)
4 row: 4 sbn, 2 PSSN , 6 CR from PSCH, 2 PSSN, 4 PRS (24)
5 row: 5 PRS, 4 PSSN, 6 PR from PSSN, 4 PSSN, 5 PRS (30)
6-10 rows: 5 PRS, 20 PSSN, 5 PRS ( 30)
11 row: 5 sc, PSSN, (PSSN, UB) * 6, PSSN, 5 sc (24)
Change the yarn to beige color:
12 row: 9 sc, 3 UB, 9 sc (21)
13 row: 21 sc
14 row: (5 sbn, UB) * 3 (18)
We fill the toy.
15th row: (UB, 1 sbn) * 6 (12)
16th row: (UB, 2 sbn) * 3 (9)
17th row: (UB, 1 sbn) * 3 (6)
Cut the thread, fill the toy to the end.
We tighten the ring behind the front walls of the loops, hide the thread.

We embroider the nose with black thread on the last row.
We embroider eyes on the 3rd row, the distance between the eyes is 7 sc.
Ears (2 parts)
Beige thread:
We make an amigurumi ring (you do not need to knit 6 sc into it, as we usually do).
We knit ch, 2 PSSN in the ring and ss.
We tighten and cut the thread, leaving for sewing.

Sew on the ears on the 11th row at eye level.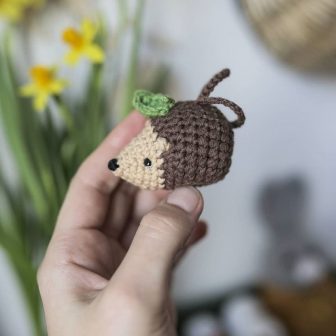 Leaflet
7 ch, starting from the 2nd loop we knit 6 sc.
Next, we knit in, turn.
Knitting sbn, PSSN, SSN, PSSN, 2 sbn.Again, ch, 2 sbn, PSSN, SSN, PSSN, sbn, cc + 3 ch The
thread is cut and fastened, the sheet is sewn to the center.

More Amigurumi Hedgehog Ideas: