Hello dear Amigurumi Followers
Today we share Amigurumi Penguin Ben Free Pattern for you. As you know we share new free amigurumi pattern every day. The main crochets are gazelle, amigurumi bear, pola, crochet panda, penguin, giraffe, llama, pig, bunny, clown, lamb, bee, crochet unicorn, amigurumi doll, fox, penguin, dinosaur, crochet elephant, hippo, monkey, crochet cat, crochet dog and more …
Todays daily new amigurumi free crochet pattern is Amigurumi Penguin Ben.
I want to give you some informations about this amigurumi free pattern ; Penguin Ben.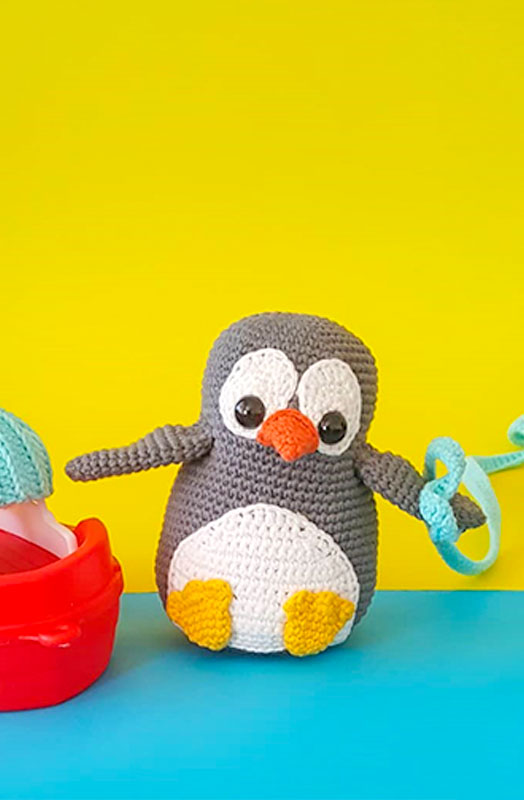 Abbreviations
MR– macig ring
Ch– chain
Sc– single crochet
ınc– increase
Dec– decrease
Sc3tog– single crochet 3 together
(decrease 3 stitches into one)
Sl st– slip stitch
BLO– back loop only
HDC– half double crochet
DC– double crochet
DCinc– double crochet increase
Amigurumi Penguin Ben Free Pattern
Eyes
White
1. MR 6sc
2. 6inc- 12sc
3. (1sc,1inc)*6- 18sc
4. 1ch, (2DC,1DCinc)*2, 12sc- 18sc
Head and body
1. MR- 8sc
2. 8inc- 16sc
3. (1sc,1inc)*8- 24sc
4. (3sc,1inc)*6- 30sc
5. (4sc,1inc)*6- 36sc
6. (6sc,1inc)*6- 42sc
7. (6sc,1inc)*6- 48sc
8. (7sc,1inc)*6- 54sc
9-15. 54sc (7 rounds)
16. (17sc,1inc)*3- 57sc
17. (18sc,1inc)*3- 60sc
18. (19sc,1inc)*3- 63sc
19-21. 63sc (3 rounds)
22. (20sc,1inc)*3- 66sc
23-32. 66sc (10 rounds)
Now insert the eyes between the rounds 15-16, but pass them through the white eye pieces first.
Wings
1. MR- 6sc
2. (1sc,1inc)*3- 9sc
3. (2sc,1inc)*3- 12sc
4. 12sc
5. 4sc, 4inc, 4sc- 16sc
6-7. 16sc
8. 6sc, 4inc, 6sc- 20sc
9. 20sc
10. (4sc,1inc)*4- 24sc
11-14. 24sc (4 rounds)
15. (2sc,1dec)*6- 18sc
16. (1sc,1dec)*6- 12sc
Leave a long tail for sewing.
Fold and sew 2 opposite stitches.
Don't stuff.
Beak
1. MR- 4sc
2. (1sc,1inc)*2- 6sc
3. (2sc,1inc)*2- 8sc
4. (3sc,1inc)*2- 10sc
5. (4sc,1inc)*2- 12sc
6. (3sc,1inc)*3- 15sc
Leave a long tail for sewing. Don't stuff.
Tumy
White
1. 21ch, starting at the 2nd chain 1sc to each- 20sc
2-8. 20sc** At the end of the rows 1ch and turn it back.
9. 1sc3tog, 14sc, 1sc3tog- 16sc
10. 1dec, 12sc, 1dec- 14sc
11. 1sc3tog, 8sc, 1sc3tog- 10sc
12. 1dec, 6sc, 1dec- 8sc
13. 1 sl st, 1sc, 1HDC, 2DC, 1HDC, 1sc, 1sl st- 8 stitches
Make sc to all around and finish.
Feet
1. MR- 6sc
2. 6inc- 12sc
3-4. 12sc
5. (3sc,1inc)*3- 15sc
6. (4sc,1inc)*3- 18sc
***1 skip, (1HDC, 1DC, 1HDC),
1 skip, 1sc, (1HDC, 1DC, 1HDC),
1 skip, 1sc, (1HDC, 1DC, 1HDC),
1 Sl st, finish.

Leave a long tail for sewing.
Don't stuff.
Fold it, we're going to make 9 stitches by taking the
2 opposite sc together.

More Amigurumi Penguin Ideas: