Hello dear Amigurumi Followers
Today we share Amigurumi Rhyna Santa's Helper Free Pattern for you. As you know we share new free amigurumi pattern every day. The main crochets are gazelle, amigurumi bear, pola, crochet panda, penguin, giraffe, llama, pig, bunny, clown, lamb, bee, crochet unicorn, amigurumi doll, fox, penguin, dinosaur, crochet elephant, hippo, monkey, crochet cat, crochet dog and more …
Todays daily new amigurumi free crochet pattern is Amigurumi Rhyna Santa's Helper.
I want to give you some informations about this amigurumi free pattern ; Rhyna Santa's Helper.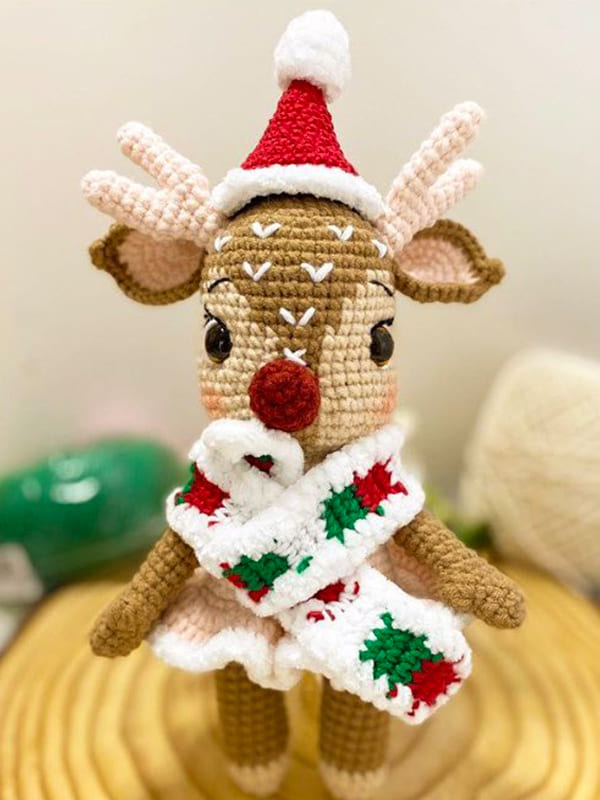 Abbreviations
MR – magic ring
sc – single crochet
dc – double crochet
slst– Slip Stitch
hdc – half double crochet
ch – chain
dec– decrease
inc – increase in single crochet
BLO– Back loop only
FLO– Front loop only
puff stitch– 5 hdc together at the same point
picot stitch– 1 sc + 3 ch. come back and in 1 ch. and safe with slst + sc
Materials
• Amigurumi thread: Steal (1819), clove (5345)
• Black anne thread for more details
• 13mm safety lock eyes
• 2.2mm crochet hook, tapestry needle and scissors
• Filling
Let's start crocheting the amigurumi reindeer pattern.
Let's crochet the head and small body part of the amigurumi toy together.
Amigurumi Rhyna Santa's Helper Free Pattern
Head + Little Body
Rnd 1. 6 sc in MR= 6
Rnd 2. inc at all stitching = 12
Rnd 3. (sc +inc) x6 =18
Rnd 4. (2 sc + inc) x 6 = 24
Rnd 5. (3 sc+inc) x 6 = 30
Rnd 6. ( 4sc + inc) x 6 = 36
Rnd 7. (5sc + inc) x 6 =42
Rnd 8. 10 sc below sc = 42
Rnd 11. (beige thread )3 sc (White thread8001) 3sc +(thread 7625 beige) 10 sc+ (thread White) 3sc+ (beige) 23 sc
Rnd 13 . (beige)2sc+ (thread White) 5sc + 8 sc (beige thread) +5 sc (White) + (beige) = 22 sc
Rnd 14. (beige) sc + (thread White) 7 sc +(beige) 6sc + (thread White) 7sc+ 21 sc = 42
Rnd 15 -18. (thread White) 10 sc +(beige) 3sc +(thread White) 10 sc (beige)+ 18sc (White) = 42
Rnd 19. (thread White) 12 sc + 3 coor jump 3 sc base +(thread White) 29 sc = 42
Rnd 20. 11sc + inc (beige yarn) 2inc us sc base (thread White) inc + 28 sc =47
Rnd 21. (cont. thread White)( 3sc + inc) x 2 + 2 sc + inc + 2 sc(beige thread), (1 sc + inc) x 2+(thread White) inc + 2 sc+inc +(3 sc +inc) x 2+ 17sc = 55
Rnd 22. (thread White) 16 sc +(beige) 6 sc + (thread White)33 sc = 55
Rnd 23. (thread White)(sc + dec) x 5+1 sc +(beige thread) (dec +sc) x 2+ White thread(sc +dec) x 11 = 37
Rnd 24. (thread White)10 sc (thread marrón) (dec)x 3 + sc + (thread White) + 21sc = 34 sc
Rnd 25. 15 dec straight + 4 sc=19
Rnd 26. 26 sc below sc = 19
Rnd 27-38. thread (3081) inc at all stitching = 38
Rnd 39. 4sc + inc x 7 + 3sc = 45
Rnd 40. FLO 45 sc
Rnd 41-42. 90 hdc
Rnd 43. finish
Rnd 44. (thread Brown) on the handle on BLO sc sc at each point = 45
Rnd 45. 5 sc + dec x 6 + 3sc = 39
Rnd 46. We will divide the body to form the legs, we will separate 5 stitching in front of the body and three sc on the back. Make pb how far we mark the 5 sc do not sc in all five. Make pb and clamp on the other side of thebody. Now we are going to do the first leg 18 sc.
Rnd 47-59. sc below sc = 15
Rnd 59-61. thread (beige) sc below sc = 15
Rnd 62. 2sc + dec x 3 + 3sc = 12
Rnd 63. 6 dec straight = 6 sc
Rnd 64. close with inverted magic ring.
Rnd 65. To do the 2nd leg, do the following: insert the needle into sc which is close to the 5 sc that we establish, we do sc and secure with another sc in the anterior region to form the leg. Continue as the 1nd section. sew the 5 sc between the legs


Let's crochet hands of the amigurumi reindeer pattern

Hands (make 2)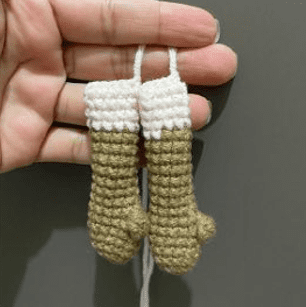 Rnd 1. 6sc in MR.
Rnd 2. inc throughout sc = 12
Rnd 3. sc below sc = 12
Rnd 6. bubble stitch + 11 sc
Rnd 7. 12 sc
Rnd 8. (dec + 4pm) = 10
Rnd 9-14. sc below sc = 10
Rnd 15-17. (beige) sc below sc
Let's crochet the ears of the amigurumi reindeer. The outer part of the ears is brown and the inner part is beige.

Ears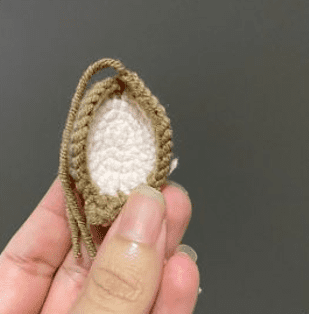 Rnd 1. 6sc in MR
Rnd 2. inc at all stitch = 12
Rnd 3. (sc + inc) x6 = 18
Rnd 4. (2sc + inc) x 2 +inchdc + hdc +inchdc + hdc + inchdc+ (inc+ 2sc) x 2 = 25
Rnd 5. (thread Brown) (3sc+ inc) x 2 + 4sc+ picot+ (3sc + inc) x 3

Let's crochet the antlers and nose of the amigurumi reindeer.

Horns (make 4)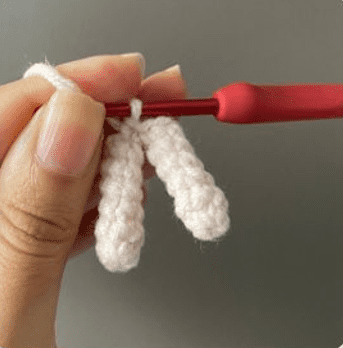 Make 4
Rnd 1. 6sc in MR.
Rnd 2. 6 sc below sc = 6. just tie the thread of the first one. With the
Ready Monday do it sc in the first part and + 5 sc. Make 6 sc the 2nd part = 12
Rnd 3. sc below sc = 12
Rnd 4. 6 dec = 6 sc
Rnd 5. sc below sc = 12 finish and leave a thread to sew.

Nose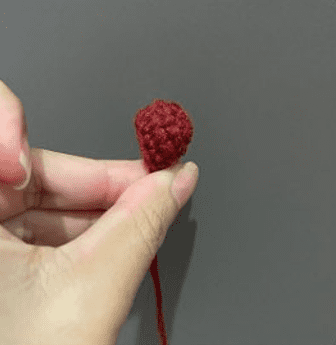 Rnd 1.6sc in MR.
Rnd 2. 3 sc below sc = 6. just tie the thread of the first one. With the
Ready Monday do it sc in the first part and + 5 sc. Make 6 sc in the 2nd part = 12
Rnd 3. finish and leave a thread to sew.

Congratulations, you have completed the amigurumi rhyna reindeer pattern.
More Amigurumi Santa Claus's Helpers Ideas: