Hello dear Amigurumi Followers
Today we share Amigurumi Sheep Keychain Free Pattern for you. As you know we share new free amigurumi pattern every day. The main crochets are gazelle, amigurumi bear, pola, crochet panda, penguin, giraffe, llama, pig, bunny, clown, lamb, bee, crochet unicorn, amigurumi doll, fox, penguin, dinosaur, crochet elephant, hippo, monkey, crochet cat, crochet dog and more …
Todays daily new amigurumi free crochet pattern is Amigurumi Sheep Keychain.
I want to give you some informations about this amigurumi free pattern ; Sheep Keychain.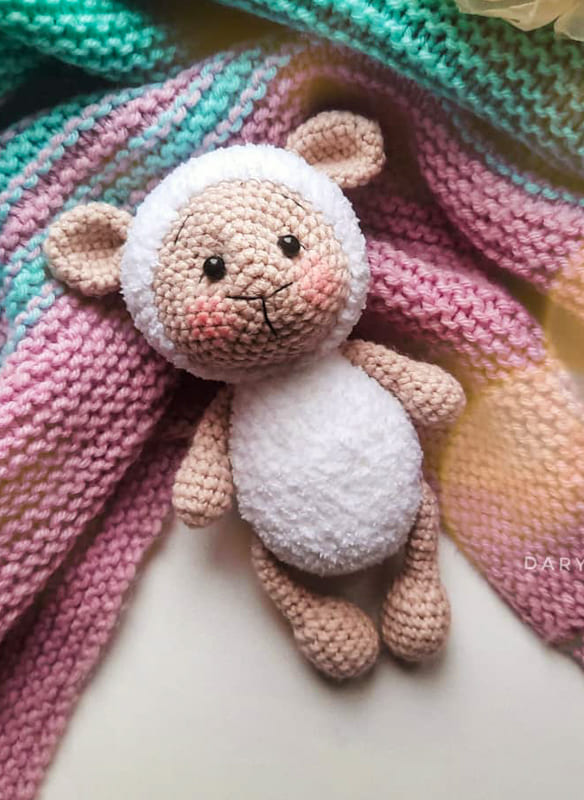 Materials
yarn for sheep
yarn for sheep's body
Scissors
Needle
Filler
Abbreviations
MR: Amigurumi Magic ring
sc : Single Crochet
inc : Increase
dec : Decrease
tr : Triple Crochet/ Treble Crochet
st: Stitch
dc : Double Crochet
hdc: Half Double Crochet
slst : Slip Stitch
ch : Chain
..in : make increase into same stitch as many as the number which is given in front of "inc" abbreviation (exp; 3inc, 4inc..).
FLO : Crochet into front loops only
BLO : Crochet into back loops only
Amigurumi Sheep Keychain Free Pattern
Head
Dear friends. First, we crochet the sheep's head.
1) 6sc in MR
2) 6inc 12sc
3) 1sc, inc*6 18sc
4) 2sc, inc*6 24sc
5-7) 24sc
8) Change of THREAD on Alize Softy.
1, inc- Repeat to end of row 36 sc
9) 36sc
10) 4sc, dec *6 30sc
11) Зsc, dec *6 24sc
12) 2sc, dec *6 18sc
13) 1sc, dec *6 12sc
14) 6dec 6sc
Body
Now the sheep's body is next. Let's crochet the sheep's body together.
1) 6sc in MR
2) 6inc 12sc
3) 1sc, inc *6 18sc
4) 2sc, inc *6 24sc
5) 7) 24sc
8) 2sc dec *6 18sc
9) 18sc
10) 1sc, dec *6 12sc
Ears
Are you ready to crochet cute ears?
1) 6sc in MR
2) 6inc 12sc
3) – 5) 12sc
6) 6dec 6sc
Fold the eyes and crochet sc.
Arms
Let's crochet the arms of the amigurumi sheep together.
1) 5sc in MR
2) 5sc 10sc
3) – 4) 10sc
5) 5 dec 5sc
Fill with filler
6) – 9) 5sc
It is not necessary to fill the thin part of the arm.
Legs
After crocheting the legs, we finish the amigurumi.
1) 6sc
2) 6inc 12sc
3)-5) 12sc
6) 6 dec 6sc
Fill with filler
7) -12) 6sc
Stuff the narrow part
LEGS DO NOT NEED
Awesome keychain sheep amigurumi is ready!

More Amigurumi Keychain Ideas: