Hello dear Amigurumi Followers
Today we share Amigurumi Snoopy Dog Free Pattern for you. As you know we share new free amigurumi pattern every day. The main crochets are gazelle, amigurumi bear, pola, crochet panda, penguin, giraffe, llama, pig, bunny, clown, lamb, bee, crochet unicorn, amigurumi doll, fox, penguin, dinosaur, crochet elephant, hippo, monkey, crochet cat, crochet dog and more …
Todays daily new amigurumi free crochet pattern is Amigurumi Snoopy Dog.
I want to give you some informations about this amigurumi free pattern ; Snoopy Dog.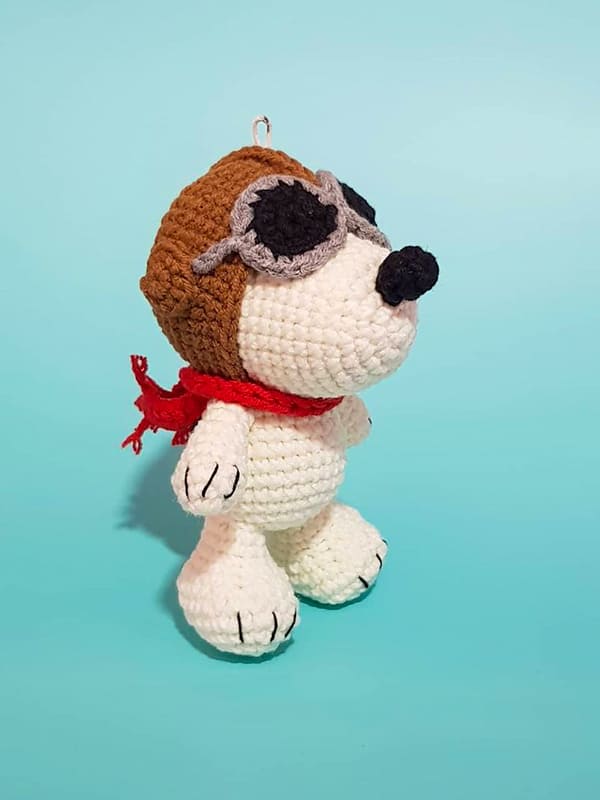 Abbreviations:
ch=chain
sc =single crochet
inc=İncrease
dec=decrease
W, 3sc =3 sc in same stitch
hdc=haft double crochet
dc=double crochet
sl st=slip stitch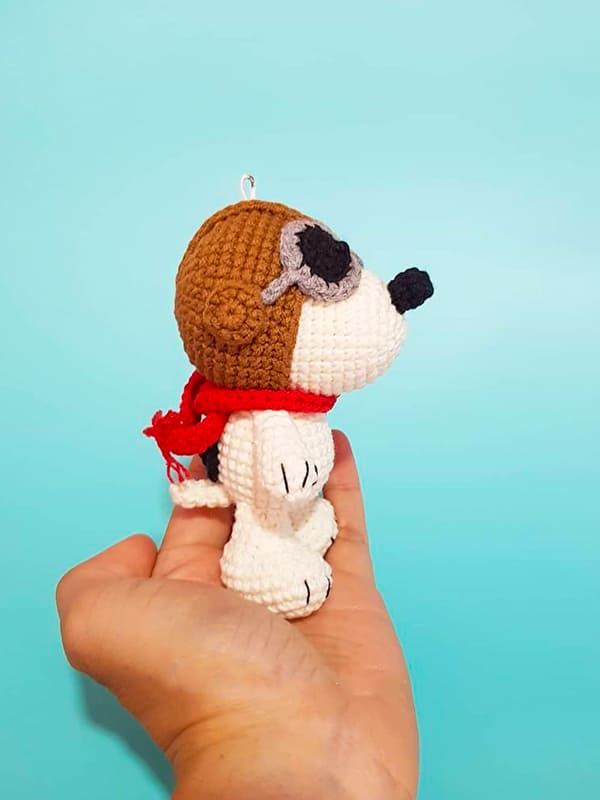 Head:
1. magic ring 6sc (6)
2. 6inc (12)
3. (sc, inc)*6 (18)
4. (2sc, inc)*6 (24)
5. (3sc, inc)*6 (30)
6-10. 30sc (30)
11. 7sc, (sc, inc)*6, 11sc (36)
12. 7sc, (2sc, inc)*6, 11sc (42)
13-17. 42sc (42)
18. (dec, 5sc)*6 (36)
19. 36sc (36)
20. (2sc, dec, 2sc)*6 (30)
21. (3sc, dec)*6 (24)
22. (sc, dec, sc)*6 (18)
23. (sc, dec)*6 (12)
24. dec*6 (6)
Cut the yarn and finish off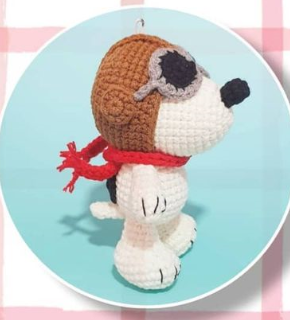 Aviatorhat:
1. magic ring 6sc (6)
2. 6inc (12)
3. (sc, inc)*6 (18)
4. (2sc, inc)*6 (24)
5. (3sc, inc)*6 (30)
6. (4sc, inc)*6 (36)
7. (5sc, inc)*6 (42)
8-13. 42sc
Put the head in and continue round 14
14. 7sc, (2sc, dec)*6,11sc (30)
15. 30sc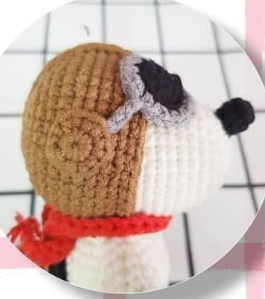 Aviator goggle x 2 pieces
Start with black color
1. magic ring 6sc (6)
2. 6inc (12)
change to gray color
3. (sc, inc)*6, ch4
Body:
1. magic ring 6sc (6)
2. inc*6 (12)
3. (sc, inc)*6 (18)
4. (2sc, inc)*6 (24)
5. (3sc, inc)*6 (30)
6-8. 30sc (30)
9. (dec, 8sc)*3 (27)
10. 27sc
11. (7sc, dec)*3 (24)
12. 24sc
13. (6sc, dec)*3 (21)
Arms:
1. magic ring 6sc (6)
2. inc*6 (12)
3-4. 12sc
5. (2sc, dec)*3 (9)
6-7. 9sc
8. (sc, dec)*3 (6)
9. 6sc (6)
Legs:
1. ch6, 4sc, w, 3sc, inc (12)
2. inc, 3sc, (inc)*3, 3sc, (inc)*2 (18)
3. (sc, inc), 3sc, (sc, inc)*3, 3sc, (sc, inc)*2 (24)
4. (sc, inc, sc), 3sc, (sc, inc, sc)*3, 3sc, (sc, inc, sc)*2 (30)
5. 6sc, (2sc, dec)*3, 12sc (27)
6. 7sc, (sc, dec)*3, 11sc (24)
7. (dec, 2sc)*6 (18)
8. (dec, sc)*6 (12)
9-10. 12sc
11. (2sc, dec)*3 (9)
Tail:
1. magic ring 5sc (5)
2-3. 5sc (5)
4. 4sc,inc (6)
5. 6sc
Spot on back
1. magic ring 6sc (6)
2. 6inc (12)
3. hdc, dc, hdc, sl st
Ears (x2 pieces)
1. magic ring 6sc (6)
2. 6inc (12)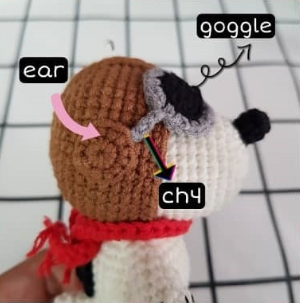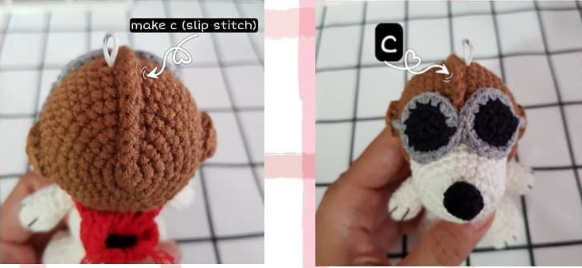 Nose
1. magic ring 6sc (6)
2-3. 6sc (6)

More Amigurumi Dog Ideas: