Hello dear Amigurumi Followers
Today we share Amigurumi Sunflower Crochet Placemat Free Pattern for you. As you know we share new free amigurumi pattern every day. The main crochets are gazelle, amigurumi bear, pola, crochet panda, penguin, giraffe, llama, pig, bunny, clown, lamb, bee, crochet unicorn, amigurumi doll, fox, penguin, dinosaur, crochet elephant, hippo, monkey, crochet cat, crochet dog and more …
Todays daily new amigurumi free crochet pattern is Amigurumi Sunflower Crochet Placemat.
I want to give you some informations about this amigurumi free pattern ; Sunflower Crochet Placemat.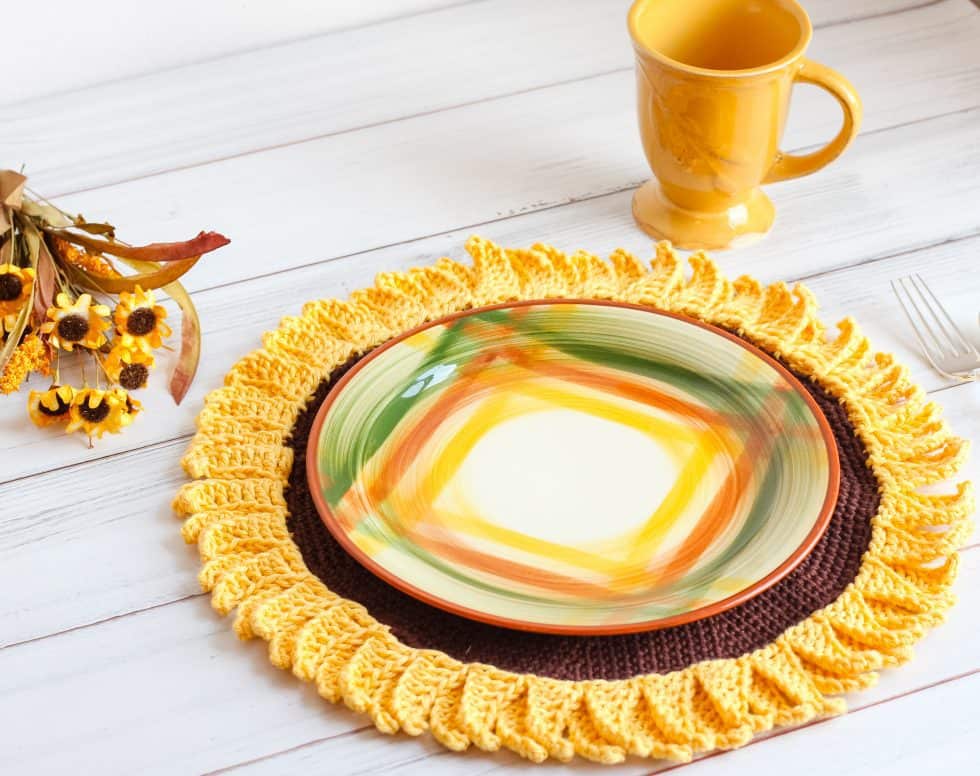 Supplies:
I Love This Cotton!, Weight 4/Medium (100% cotton, 180 yds / 3.5 oz)
– Brown 2.2 oz / 115 yds (Color A)
– Curry 1.1 oz / 58 yds (Color B)
 Size H/8 (5.0 mm) crochet hook

Scissors
Tapestry Needle
Stitch Markers

Approximate finished size: 15" diameter
Gauge: Diameter after round 9 = 4″
Abbreviations:
WS = wrong side
RS = right side
MC = magic circle
ch = chain
sc = single crochet
sl st = slip stitch
hdc = half double crochet
dc = double crochet
st = stitch
sk = skip
FLO = front loop only
tr = treble
Recommended Tutorials:
How to crochet a perfect circle
Sunflower Petals (Note:  petals shown in video are slightly smaller but use the same technique – just be aware the stitches are different for the placemat) 

Notes about pattern:
Worked in seamless rounds – do not sl st join at the end of each round, use a stitch marker in first st of each round and move up to keep track of rounds.
Pattern Instructions
Round 1:  (RS) With Color A, make a MC, ch 1, 6 sc in MC.  (6)
Round 2:  2 sc in each st.  (12)
Round 3:  *2 sc in next st, 1 sc in next st,* repeat from * to * to end. (18)
Round 4:  1 sc in next st, 2 sc in next st, *1 sc in next 2 st, 2 sc in next st* repeat from * to * to last st, 1 sc in last st.  (24)
Round 5:  *2 sc in next st, 1 sc in next 3 st,* repeat from * to * to end. (30)
Round 6:  1 sc in next 2 st, 2 sc in next st, *1 sc in next 4 st, 2 sc in next st,* repeat from * to * to last 2 st, 1
sc in last 2 st.  (36)
Round 7:  *2 sc in next st, 1 sc in next 5 st,* repeat from * to * to end.  (42)
Round 8:  1 sc in next 3 st, 2 sc in next st, *1 sc in next 6 st, 2 sc in next st,* repeat from * to * to last 3 st, 1 sc in last 3 st.  (48)
Round 9: *2 sc in next st, 1 sc in next 7 st,* repeat from * to * to end.  (54)
Round 10:  1 sc in next 4 st, 2 sc in next st, *1 sc in next 8 st, 2 sc in next st,* repeat from * to * to last 4 st, 1 sc in last 4 st.  (60)
Round 11:  *2 sc in next st, 1 sc in next 9 st,* repeat from * to * to end.  (66)
Round 12:  1 sc in next 5 st, 2 sc in next st, *1 sc in next 10 st, 2 sc in next st,* repeat from * to * to last 5 st, 1 sc in last 5 st.  (72)
Round 13:  *2 sc in next st, 1 sc in next 11 st,* repeat from * to * to end.  (78)
Round 14:  1 sc in next 6 st, 2 sc in next st, *1 sc in next 12 st, 2 sc in next st,* repeat from * to * to last 6 st, 1 sc in last 6 st.  (84)
Round 15:  *2 sc in next st, 1 sc in next 13 st,* repeat from * to * to end.  (90)
Round 16:  1 sc in next 7 st, 2 sc in next st, *1 sc in next 14 st, 2 sc in next st,* repeat from * to * to last 7 st, 1 sc in last 7 st.  (96)
Round 17:  *2 sc in next st, 1 sc in next 15 st,* repeat from * to * to end.  (102)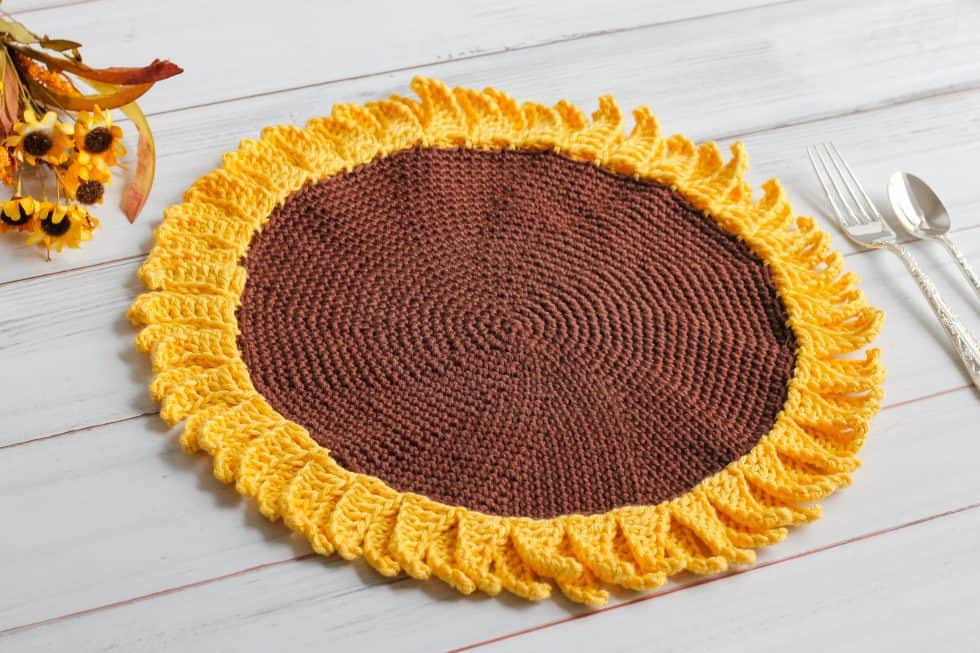 Round 18:  1 sc in next 8 st, 2 sc in next st, *1 sc in next 16 st, 2 sc in next st,* repeat from * to * to last 8 st, 1 sc in last 8 st.  (108)
Round 19:  *2 sc in next st, 1 sc in next 17 st,* repeat from * to * to end.  (114)
Round 20:  1 sc in next 9 st, 2 sc in next st, *1 sc in next 18 st, 2 sc in next st,* repeat from * to * to last 9 st, 1 sc in last 9 st.  (120)
Round 21:  *2 sc in next st, 1 sc in next 19 st,* repeat from * to * to end.  (126)
Round 22:  1 sc in next 10 st, 2 sc in next st, *1 sc in next 20 st, 2 sc in next st,* repeat from * to * to last 10 st, 1 sc in last 10 st.  (132)
Round 23:  *2 sc in next st, 1 sc in next 21 st,* repeat from * to * to end.  (138)
Round 24:  1 sc in next 11 st, 2 sc in next st, *1 sc in next 22 st, 2 sc in next st,* repeat from * to * to last 11 st, 1 sc in last 11 st.  (144)
Round 25:  *2 sc in next st, 1 sc in next 23 st,* repeat from * to * to end.  (150)
Finish final sc of round 25 by joining Color B.  Fasten off Color A.
Round 26:  (working in FLO), *ch 10, sl st in third ch from hook, 1 hdc in next ch, 1 dc in next 4 chs, 1 tr in next 2 chs, sk next 3 sts on circle, sl st in next st,* repeat from * to * to end (2 sts will remain unworked).  
Round 27:  repeat round 26 (working behind petals of previous round) sl st to first st.

Fasten off.  Weave in ends.

More Amigurumi Place Mat Ideas: