Hello dear Amigurumi Followers
Today we share Amigurumi Sunflower Hair Clip Free Pattern for you. As you know we share new free amigurumi pattern every day. The main crochets are gazelle, amigurumi bear, pola, crochet panda, penguin, giraffe, llama, pig, bunny, clown, lamb, bee, crochet unicorn, amigurumi doll, fox, penguin, dinosaur, crochet elephant, hippo, monkey, crochet cat, crochet dog and more …
Todays daily new amigurumi free crochet pattern is Amigurumi Sunflower Hair Clip.
I want to give you some informations about this amigurumi free pattern ; Sunflower Hair Clip.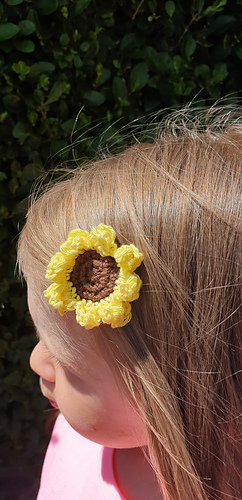 Materials and Resources
Below is a list of everything you will need to make this sunflower
 4ply Cotton , small amounts (less than 10g per sunflower) in yellow
and brown
 3mm hook
 Crocodile clip
 Hot glue
 Tapestry needle
 Scissors
Stitch List
Below is a list of all the stitches (and their abbreviations) featured in
this pattern. All terms used are American.
 Sc – single crochet
 Sc inc – sc increase
 TSS – Tunisian simple stitch
 RP – return pass
 m/c – magic circle
 sl st – slip stitch
 b/l – back loops
 f/l – front loops
Notes
Here are a few handy tips to help you with the pattern.
 There is no specific gauge for the sunflower, although the tighter you work the smaller it will be.
 My finished sunflower measures 5cm across in diameter.
 The sunflower is glued to the crocodile clip using hot glue once the sunflower is finished.
 The middle of the sunflower is worked in regular crochet, whilst the petals are worked in Tunisian crochet.
Pattern
Sunflower – starting in brown
Row 1: 8 sc in m/c (8)
Row 2: (sc inc) x 8 (16)
Row 3: (sc, sc inc) x 8 (24)
Sl st and cast off
Attach yellow with a slip stitch in any b/l
Row 4: Ch 4, sk ch and pull up a loop in each of the next 3 ch's and in the same b/l as the starting sl st. RP – yo and pull through 2 loops until the end (4 tss)
Row 5: Insert hook through 2 bars and pull up a loop, insert hook through next bar and the next b/l in brown and pull up a loop, RP – yo and pull through 2 loops across (3 tss)
Row 6: Insert hook through 2 bars and pull up a loop, insert hook through next brown b/l and pull up a loop. RP – yo and pull through all loops on hook (1 tss)
Row 7: Sl st in next brown b/l
The first petal is complete
Row 8-28: Repeat rows 4-7 seven more times to create 8 petals in total
Now sl st into the next available brown f/l
Row 29-61: Repeat rows 4-7 eight more times working in f/l of the brown only, to create 8 more petals in the f/l
Sl st to starting front petal and cast off.
Sew in all ends

More Amigurumi Hair Clip Ideas: