Hello dear Amigurumi Followers
Today we share Amigurumi Sweet Dinosaur Free Pattern for you. As you know we share new free amigurumi pattern every day. The main crochets are gazelle, amigurumi bear, pola, crochet panda, penguin, giraffe, llama, pig, bunny, clown, lamb, bee, crochet unicorn, amigurumi doll, fox, penguin, dinosaur, crochet elephant, hippo, monkey, crochet cat, crochet dog and more …
Todays daily new amigurumi free crochet pattern is Amigurumi Sweet Dinosaur.
I want to give you some informations about this amigurumi free pattern ; Sweet Dinosaur.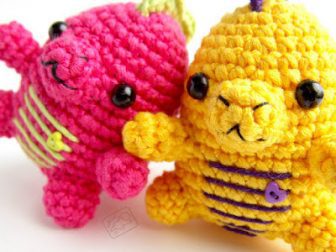 Bright knitted dinosaurs are perfect for beginner amigurum women and, I think, will impress experienced knitters. Inside there is an egg from a kinder surprise, they can be used as a rattle. Description of knitting dinosaurs from the group Vkontakte Workshop "Melody of the moonlight" . 
Amigurumi Sweet Dinosaur Free Pattern

Toy size:  height – about 7 cm.
SYMBOLS : 
v.p. – air loop
sbn – single crochet
pssn – half crochet
ssn – double crochet 
ss2n – double
crochet add- increase
kill – decrease
HEAD-TRUNK:
1p – 6 sbn in a ring-amigurumi (6)
2p – * prib * repeat 6 times (12)
3p – * 1 sbn, prib * repeat 6 times (18)
4p – * 5 sbn, prib * repeat 3 times (21)
5p – * 6 sbn, prib * repeat 3 times (24)
6p – * 7 sbn, prib * repeat 3 times (27)
7p – * 8 sbn, prib * repeat 3 times (30)
8p – * 9 sbn, arr * repeat 3 times (33)

9-10r – 33 sbn
11r – * 10 sbn, arr * repeat 3 times (36)
12-13r – 36 sbn
14r – * 11 sbn, arr * repeat 3 times (39)
15-16r – 39 sbn 17r
– * 11 sbn, kill * repeat 3 times (36)
18p – * 4 sbn, kill * repeat 6 times (30)
19p – * 3 sbn, kill * repeat 6 times (24)
20p – * 2 sc, dec * repeat 6 times (18)
21p – * 1 sbn, kill * repeat 6 times (12)
22p – * kill * repeat 6 times (6)


TAIL:
1p – 6 sbn in the amigurumi ring (6)
2p – prib, 5 sbn (7)
3p – prib , 6 sbn (8)
4r – arr, 7 sbn (9)
5r – arr, 8 sbn (10)
6r – arr, 9 sbn (11)
7r – arr, 10 sbn (12)
8r – arr, 11 sbn (13 )
9p – arr, 12 sbn (14)

MUDOCHKA:
1p – 5 sc in the amigurumi ring (5)
2p – * prib * repeat 5 times (10)
3p – 10 sc in the UPPER


PAWS (2 pcs.):
1p – 7 sc in the amigurumi ring (7)
2-3p – 7 sbn LOWER


FEET (2 pcs.):
1p – 5 sbn in a ring-amigurumi (5)
2p – * prib * repeat 5 times (10)
3-4p – 10 sb

COMB:
21 + 1 vp, start in the second loop from the hook:
* 1 PRS, 1 PRSN, (1 PRS, 1SS2N, 1SSN) in one loop, 1 PRSN * repeat 5 times, 1 PRS (31)