Hello dear Amigurumi Followers
Today we share Amigurumi Unicorn Cupcake Free Pattern for you. As you know we share new free amigurumi pattern every day. The main crochets are gazelle, amigurumi bear, pola, crochet panda, penguin, giraffe, llama, pig, bunny, clown, lamb, bee, crochet unicorn, amigurumi doll, fox, penguin, dinosaur, crochet elephant, hippo, monkey, crochet cat, crochet dog and more …
Todays daily new amigurumi free crochet pattern is Amigurumi Unicorn Cupcake.
I want to give you some informations about this amigurumi free pattern ; Unicorn Cupcake.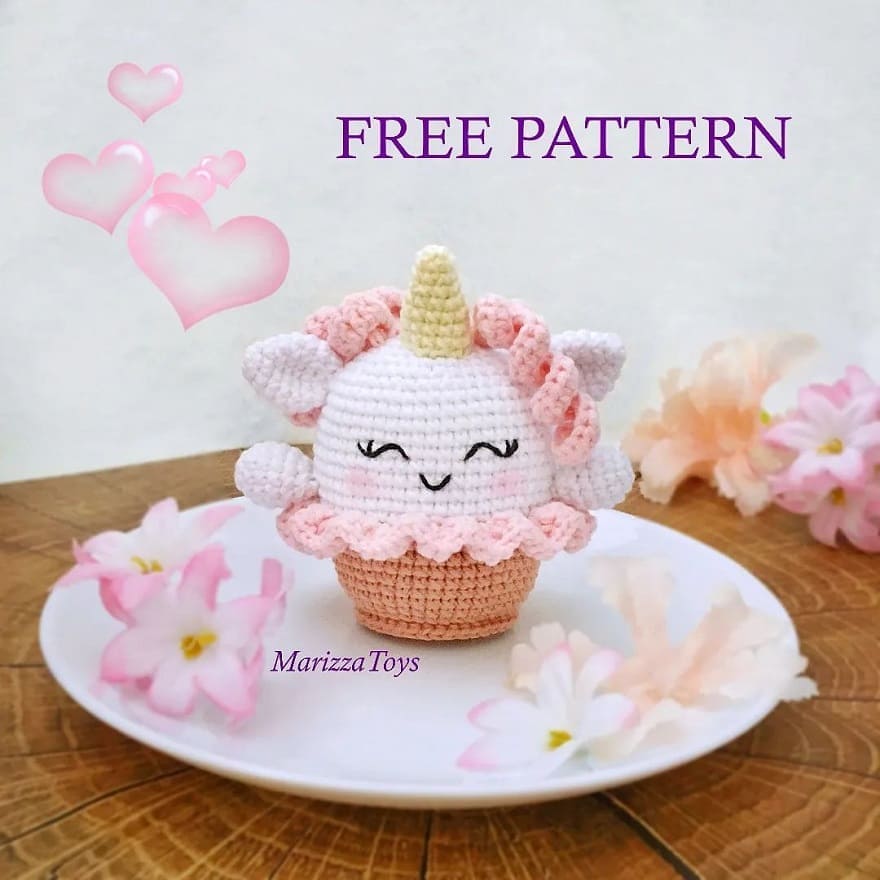 Want to crochet a cute cupcake? Make an adorable and easy unicorn cupcake with this free amigurumi pattern! If you use the materials as in the list below, the finished toy is about 8-9 cm (3-4″) tall. Grab your crochet hook and some yarn and go make the unicorn cupcake.
Materials:
– Sport yarn (50 g/160 m): white (YarnArt Jeans #62), pink (YarnArt Jeans #74), beige (YarnArt Jeans #07), yellow (YarnArt Jeans #67)
– Crochet hook 2.0 mm
– Black thread to embroider the eyes and the mouth
– Tapestry needle
– Scissors
– Stuffing (polyester fiber fill)
Abbreviations:
R = row
ch = chain
st = stitch
sl st = slip stitch
sc = single crochet
dc = double crochet
hdc = half double crochet
inc = 2 sc in the next stitch
dec = single crochet 2 stitches together
( ) = number of stitches you should have at the end of the round/row
( )*6 = repeat whatever is between the brackets the number of times stated
Free crochet unicorn cupcake pattern:
Cupcake
Crochet with the beige yarn.
Stuff as you go.
R 1: 7 sc into a magic ring (7)
R 2: (inc)*7 (14)
R 3: (1 sc, inc)*7 (21)
R 4: 1 sc, inc, (2 sc, inc)*6, 1 sc (28)
R 5: (3 sc, inc)*7 (35)
R 6: 2 sc, inc, (4 sc, inc)*6, 2 sc (42)
R 7: Back loops only: 42 sc
R 8-10: 42 sc (3 rows)
R 11: (6 sc, inc)*6 (48)
R 12-15: 48 sc (4 rows)
Change the yarn to white color, we will continue with the head:

Decoration
Attach the beige yarn in the front loops of R 7.
Crochet 42 sc with the body turned upside down.
Fasten off and cut thread inside. the yarn. Hide the thread inside.
Curls (5 pieces)
Make 37 chain and crochet on it, starting in the second chain from the hook:
R 1: (2 hdc, 2 hdc in one st)*12 (48)
Fasten off and cut the yarn, leaving a tail for sewing.
Sew the curls to the head behind the horn.

Embroidering
Using the black thread embroider the eyes in R 21 of the head and the mouth in R 19.
If you want, you can color the cheeks with a pink blush.
Your cute unicor cupcake is ready!

More Amigurumi Cupcake Ideas: