Hello dear Amigurumi Followers
Today we share Amigurum Cat in a Hat Free Pattern for you. As you know we share new free amigurumi pattern every day. The main crochets are gazelle, amigurumi bear, pola, crochet panda, penguin, giraffe, llama, pig, bunny, clown, lamb, bee, crochet unicorn, amigurumi doll, fox, penguin, dinosaur, crochet elephant, hippo, monkey, crochet cat, crochet dog and more …
Todays daily new amigurumi free crochet pattern is Amigurumi Cat in a Hat.
I want to give you some informations about this amigurumi free pattern ; Cat in a Hat.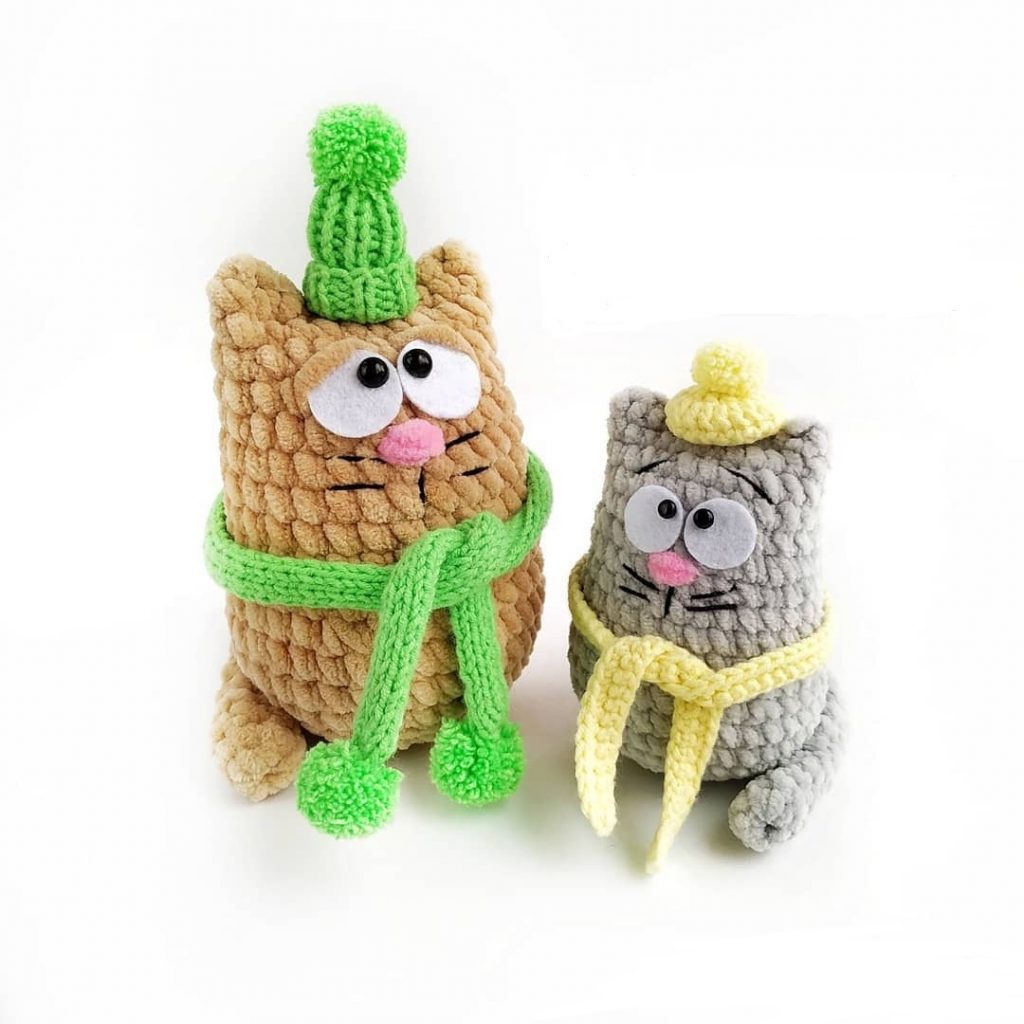 Seals can be knitted from any yarn, the author has this:

– For big cat Ayaz Baby soft, 110 m per 100 g, hook 4.5
– For a small cat Ayaz Baby fine, 180 m x 100 g, hook 3
– For clothes YarnArt Jeans, knitting needles 2.75, hook 2.25
You will also need a filler (the author has holofiber), white felt, half beads, threads for decorating the muzzle, a needle to hide the ends of the threads.

Symbols:
KA – amigurumi ring
VP – air loop
sbn – single crochet
ssn – double crochet
pssn – half double crochet
pr – increase
dec – decrease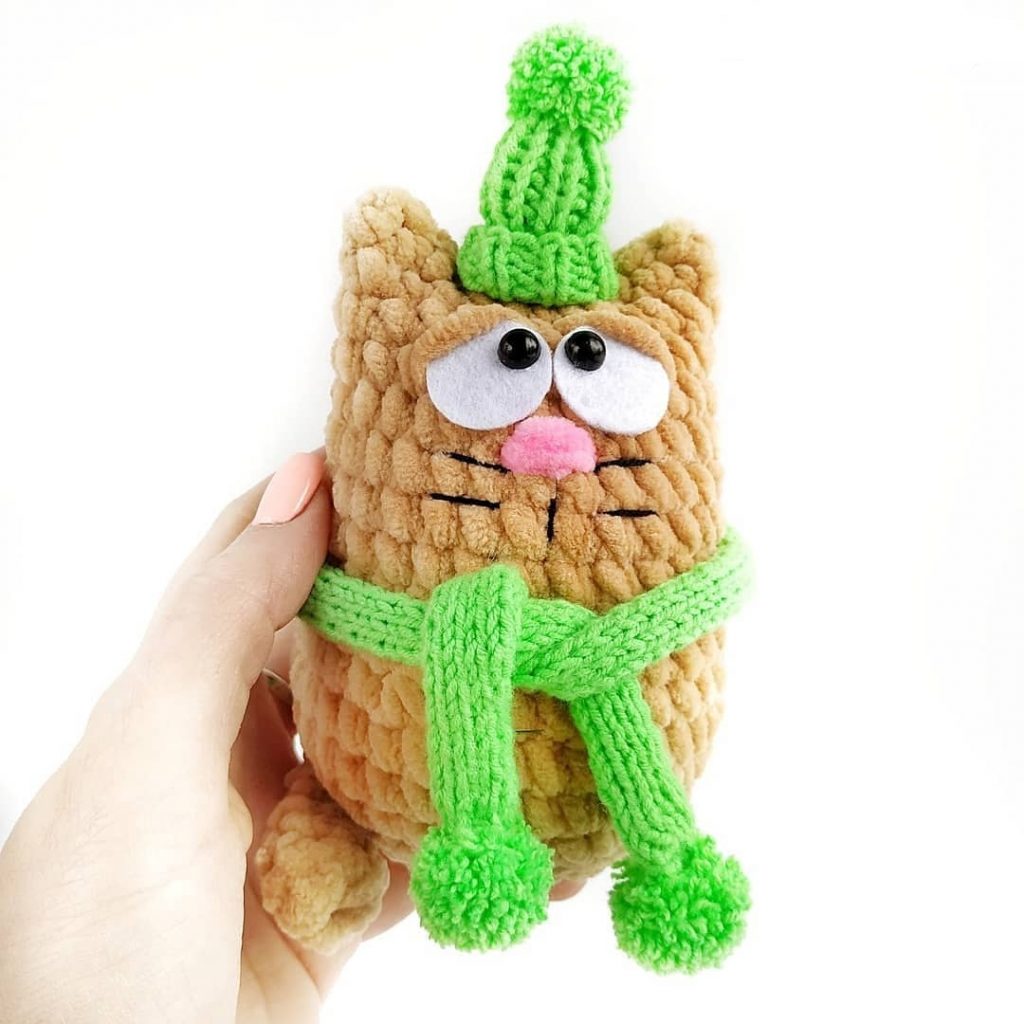 Amigurum Cat in a Hat Free Pattern
Body-Head
1. 6 sc in CA (6)
2. 6 inc (12)
3. (1 sc, 1 inc) x 6 (18)
4. (2 sc, 1 inc) x 6 (24)
5. ( 3 sc, 1 inc) x 6 (30)
6. Behind the back half-loop (4 sc, 1 inc) x 6 (36)
7-8. 36 sc
9. (4 sc, 1 dec) x 6 (30)
10-14. 30 sc
15. (3 sc, 1 dec) x 6 (24)
16-19. 24 sbn
We stuff the part.
At the pulley (2 parts)
We knit 20 rows of dc in the first loop, then fold the top in half, and, capturing both sides, (do not miss the last sbn from the 19th row) we knit 1 dc, 1 sb, 7 sl-st, 1 sb, 1 dc, 1 dc in the remaining 1 loop.
We close knitting. The tip of the thread can be hidden immediately, or you can leave it to embroider their eyelids.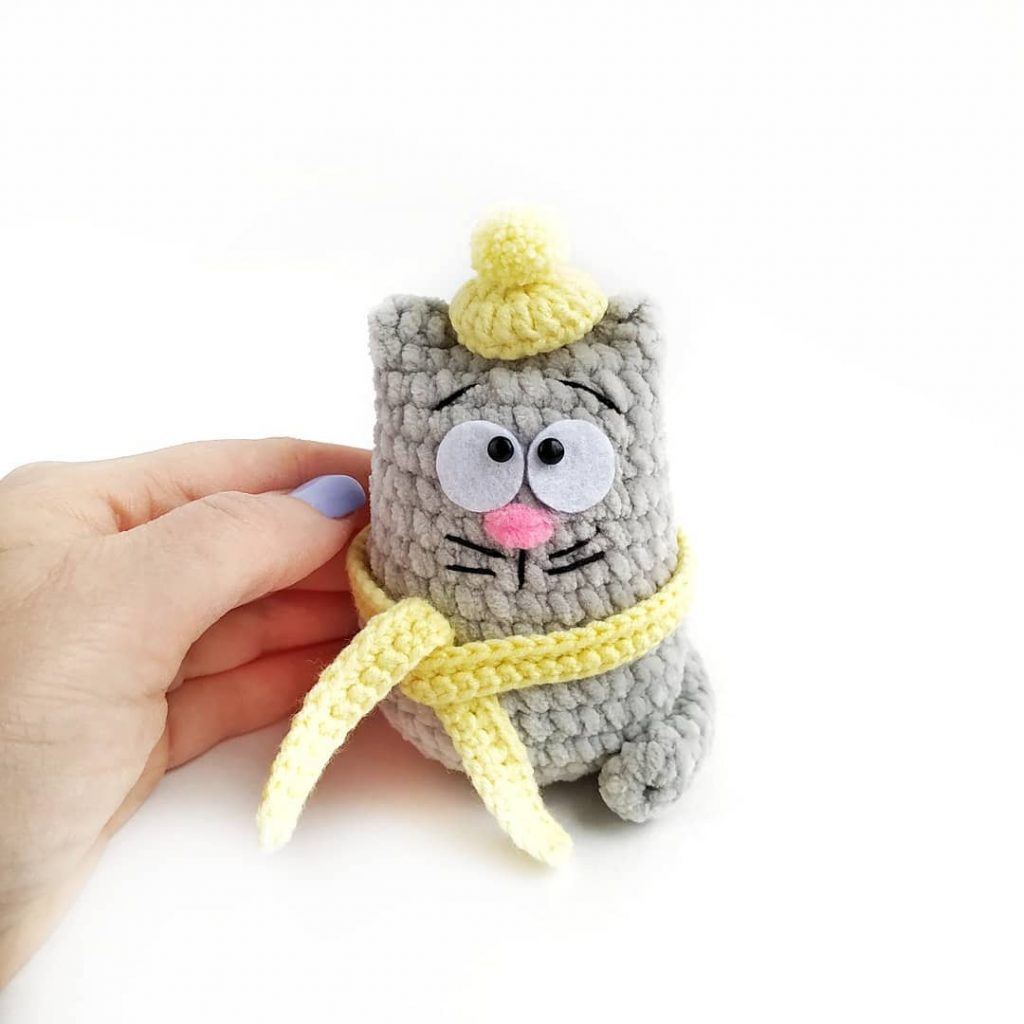 Tail
1. 6 sc in KA
2-4. 6 sc
5. 1 dec, 4 sc
6-13. 5 sbn Sew the
tail.
For the eyes , we cut out circles from felt or knit from white yarn of a suitable footage (6 sbn in KA, 6 inc).
We glue or sew the mugs, glue the eyes (the author blinded the small cat from polymer clay, the large one has self-adhesive semi-beads).

We make out the muzzle, the nose can be embroidered (the author used Himalaya Dolphin Baby for the nose).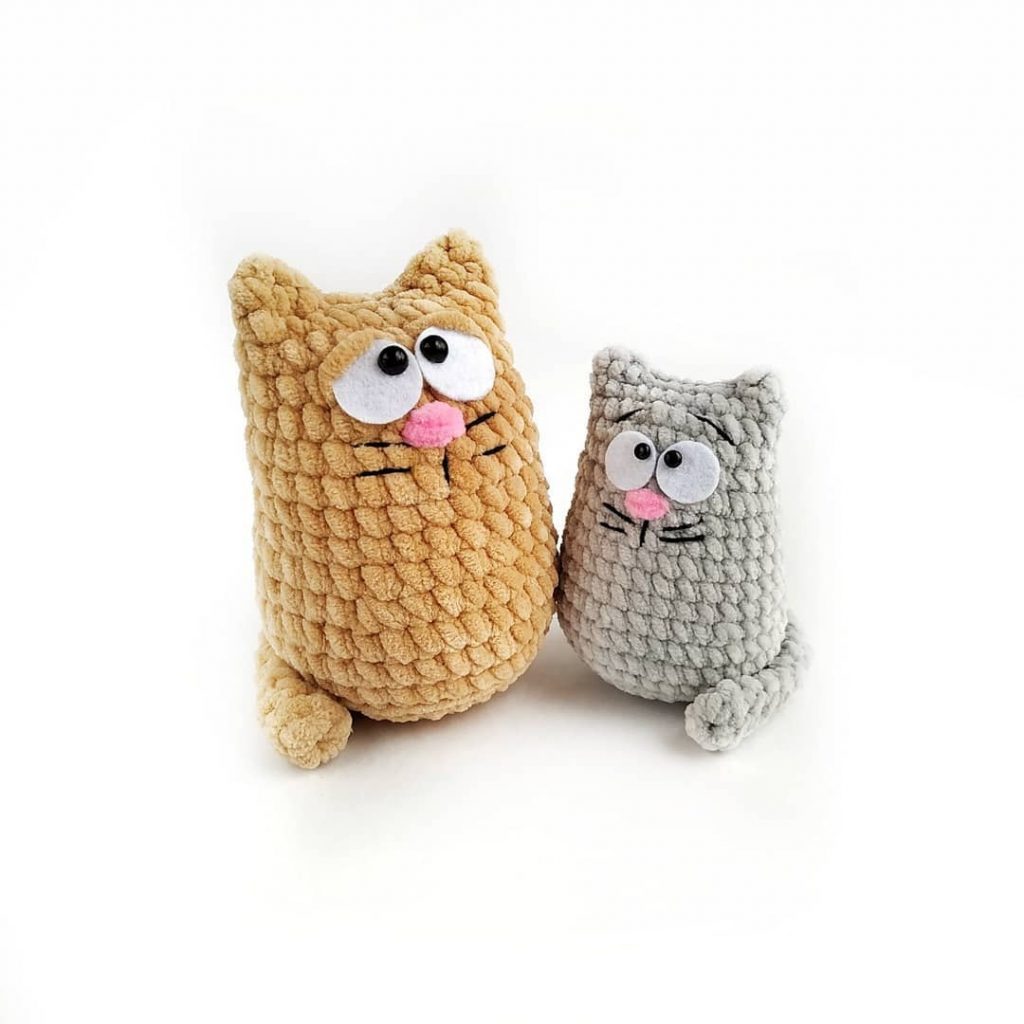 Cloth

For a large cat, we knit with knitting needles:
For a hat , we collect 16 loops and knit with an elastic band 1×1 to the desired height, then tighten and sew.
For a scarf , we collect 8 loops, we knit with the front stitch to the desired length.

You can decorate the hat and scarf with pom-poms.
For a small cat:
Beretik
1. in KA we knit 2 lifting loops, 8 dc
2. 2 lifting loops, 7 increases, 1 dc in the first loop
3. 8 decreases

For a scarf, we collect 80 VP, turn knitting, knit, starting from the third loop, 78 sbn for the front half-loop, then 1 lifting loop, 79 sbn for the front half-loop.