Hello dear Amigurumi Followers
Today we share Amigurumi Antarctica Snowflake Free Pattern for you. As you know we share new free amigurumi pattern every day. The main crochets are gazelle, amigurumi bear, pola, crochet panda, penguin, giraffe, llama, pig, bunny, clown, lamb, bee, crochet unicorn, amigurumi doll, fox, penguin, dinosaur, crochet elephant, hippo, monkey, crochet cat, crochet dog and more …
Todays daily new amigurumi free crochet pattern is Amigurumi Antarctica Snowflake.
I want to give you some informations about this amigurumi free pattern ; Antarctica Snowflake.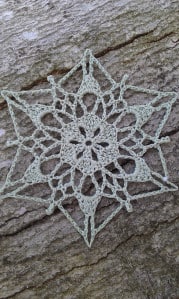 Amigurumi Antarctica Snowflake Free Pattern
Make magic ring.
Round 1: Ch 3, 11 dc in ring. Pull magic ring tight, sl st in 3rd ch of the first ch 3.
Round 2: Ch 3, 1 dc in same stitch. *2 dc in next dc*. Repeat from * to * around for a total of 24 dc. Sl st in 3rd ch of the first ch 3.
Round 3: Ch 1, *1 sc, 1 hdc in same stitch. In the next dc: 1 dc, 1 tr. In the next dc: 1 tr, 1 dc. In the next dc: 1 hdc, 1 sc*. Repeat from * to * around, end with sl st in first sc.
Round 4: *Ch 5, 1 dc in first tr. Ch 5, sl st in 2nd ch from hook, ch 2, 1 dtr in same tr. Ch 5, sl st in 2nd ch from hook, ch 3, 1 dtr in next tr. Ch 4, sl st in 2nd ch from hook, ch 3, 1 dc in same tr. Ch 5, sl st in next sc. Ch 3, sl st in 2nd sc*. Repeat from * to * around.
Bind off, weave in ends.

More Amigurumi Snowflake Ideas: