Hello dear Amigurumi Followers
Today we share Amigurumi Halloween Witch Hat Hair Clip Free Pattern for you. As you know we share new free amigurumi pattern every day. The main crochets are gazelle, amigurumi bear, pola, crochet panda, penguin, giraffe, llama, pig, bunny, clown, lamb, bee, crochet unicorn, amigurumi doll, fox, penguin, dinosaur, crochet elephant, hippo, monkey, crochet cat, crochet dog and more …
Todays daily new amigurumi free crochet pattern is Amigurumi Halloween Witch Hat Hair Clip.
I want to give you some informations about this amigurumi free pattern ; Halloween Witch Hat Hair Clip.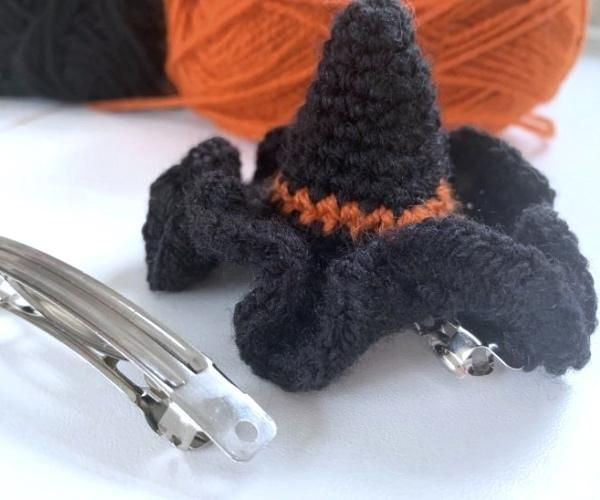 Hook size
3.5mm crochet hook
Yarn
DK yarn in 2 colours. I used King Cole Pricewise
A – Black
B – Rust
Terminology : USA

Abbreviations
ch – Chain
sl st – Slip stitch
st/sts – Stitch/stitches
sc – Single crochet
inc – Increase (2 stitches in 1 space)
hdc – Half double crochet
3hdc – 3 Half double crochet in 1 space (increase)
MR – Magic ring
flo – Front loop only
Gauge / Tension
Gauge is important as everyone crochets with a different tension. If your 2" swatch doesn't match up you can change your hook size to suit your tension.
10 rows of 11 sc
Pattern notes
I do not count chains in my stitch count.
Numbers in brackets are the number of rows/stitches.
Stitches separated with a comma are to be made in separate spaces eg. (sc, inc) would mean sc in first stitch then inc in next stitch.
You will need hair clip or elastic to work sew your hat to.
Supplies
You will need the following supplies to complete the project (links will take you directly to my recommended supplies on love crafts / amazon)
– dk yarn
– Crochet hook
– hair clip
– tapestry needle
– scissors
– tape measure
Important Information
By using Memory Lane Crochet's website you are agreeing to its terms & conditions, copyright agreement and safety disclaimer. 
This post contains affiliate links. This means I may earn a commission should you chose to make a purchase using my links.
---
Free crochet pattern – witch hat
Tip of hat
Round 1
start with colour A
sc x 6 into MR
sl st to join & ch 1 (6 sts)
Round 2
(inc, sc x 2) x 2
sl st to join & ch 1 (8 sts)

Round 3
(inc, sc x 3) x 2
sl st to join & ch 1 (10 sts)

Round 4
(inc, sc x 4) x 2
sl st to join & ch 1 (12 sts)

Round 5
(inc, sc x 5) x 2
sl st to join & ch 1 (14 sts)

Round 6
(inc, sc x 6) x 2
sl st to join & ch 1 (16 sts)

Round 7
(inc, sc x 7) x 2
sl st to join & ch 1 (18 sts)

Round 8
Change to colour B
(inc, sc x 8) x 2
sl st to join & ch 1 (20 sts)

Round 9
Change to colour A
(inc, sc x 9) x 2
sl st to join & ch 1 (22 sts)

Round 10
(inc, sc x 10) x 2
sl st to join & ch 1 (24 sts)
Rim of hat
Round 11
Work this row only in flo
(inc, sc x 2) x 8
sl st to join & ch 1 (32 sts)

Round 12
(inc, sc x 3) x 8
sl st to join & ch 1 (40 sts)

Round 13
(inc, sc x 4) x 8
sl st to join & ch 1 (48 sts)

Round 14
3hdc x 42
sl st to join & fasten off (144 sts)
Sew hat on to your hair accessory to complete and weave in ends.

More Amigurumi Hair Clip Ideas: