Hello dear Amigurumi Followers
Today we share Amigurumi Deer Keychain Free Pattern for you. As you know we share new free amigurumi pattern every day. The main crochets are gazelle, amigurumi bear, pola, crochet panda, penguin, giraffe, llama, pig, bunny, clown, lamb, bee, crochet unicorn, amigurumi doll, fox, penguin, dinosaur, crochet elephant, hippo, monkey, crochet cat, crochet dog and more …
Todays daily new amigurumi free crochet pattern is Amigurumi Deer Keychain.
I want to give you some informations about this amigurumi free pattern ; Deer Keychain.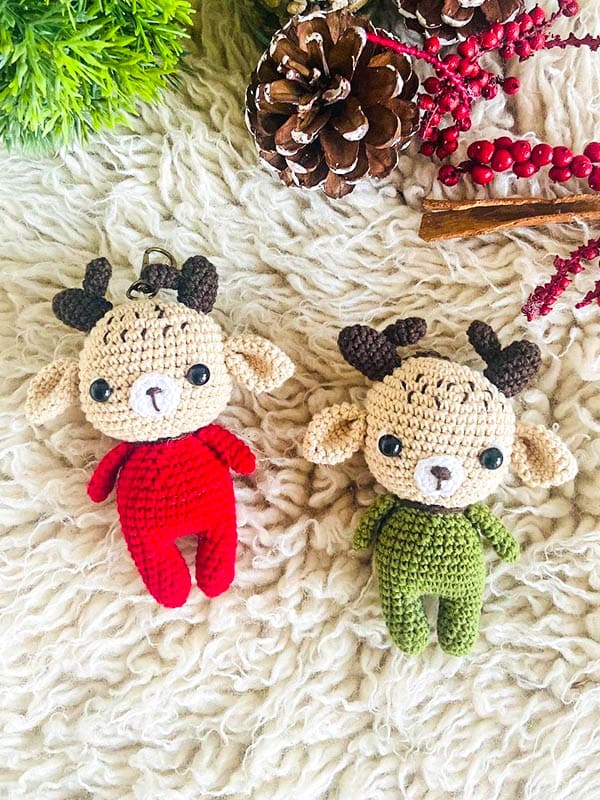 Amigurumi Deer Keychain Free Pattern
Head
1. 6 MR (6)
2. 6-inc (12)
3. (1sc,1inc)*6 (18)
4. (2sc,inc)*6 (24)
5. (3sc,inc)*6 (30)
6. (4sc,inc)*6 (36)
7. (5sc,inc)*6 (42)
8-13. 42sc
14. (5sc,dec)*6 (36)
15. 2sc,dec, (4sc,dec)*5,2sc (30)
16. (3sc,dec)*6 (24)
17. 1sc,dec, (2sc,dec)*5,1sc (18)
Cut the yarn. Leave a long tail for sewing.
Arm
1. 6 MR (6)
2-7. 6sc
Ear
1. 6 MR (6)
2. (1sc,1inc) 9
3. (2sc,1inc) 12
4. (3sc,1inc) 15
5-18. 15sc
Leg*2
1. 6 MR (6)
2. (1sc,1dec)*3 (9)
3-8. 9sc

First leg cut the yarn, second leg don't cut the yarn.
We'll continue the body.

9. Join legs with 3ch
9sc,3sc,9sc,3sc (24)
10. 9sc,3inc,9sc,3inc (30)
11-16. 30sc
17. (8sc,dec)*3 (27)
18. (7sc,dec)*3 (24)
19. (6sc,dec)*3 (21)
20. (5sc,dec)*3 (18)
21. 18sc
With the arm
Horn
Big:
1. 5 MR (5)
2. 5-inc (10)
3-6. 10sc
Small:
1. 6 MR (6)
2-4. 6 MR (16)
Nose
1. 6 MR (6)
2. 6-inc (12)

More Amigurumi Deer Ideas: