Hello dear Amigurumi Followers
Today we share Amigurumi Small Pumpkin Free Pattern for you. As you know we share new free amigurumi pattern every day. The main crochets are gazelle, amigurumi bear, pola, crochet panda, penguin, giraffe, llama, pig, bunny, clown, lamb, bee, crochet unicorn, amigurumi doll, fox, penguin, dinosaur, crochet elephant, hippo, monkey, crochet cat, crochet dog and more …
Todays daily new amigurumi free crochet pattern is Amigurumi Small Pumpkin.
I want to give you some informations about this amigurumi free pattern ; Small Pumpkin.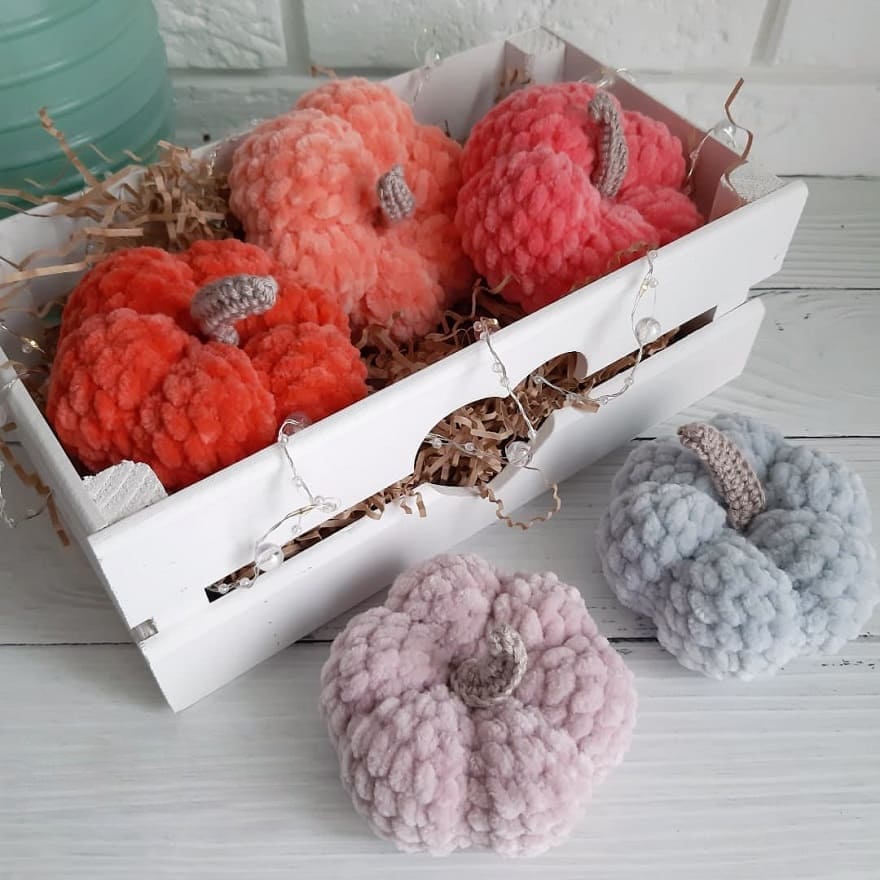 Try this free crochet plush pattern and learn how to crochet pumpkin for decorating your home or office for fall. Make in all your favorite fall colors! The size of finished pumpkin is approximately 9 cm (3.5″) in diameter.

Materials:
– For a pumpkin: Himalaya Dolphin Baby yarn (100% polyester, 120 m/100 g) and 3.5 mm crochet hook
– For a pumpkin stem: YarnArt Jeans yarn (55% cotton, 45% acrylic, 50 g/160 m) and 2.5 mm crochet hook
– Strong cotton thread in the tone of plush yarn
– Tapestry needle
– Scissors
– Fiberfill
Abbreviations:
R = row
mc = magic circle (magic ring)
ch = chain
sc = single crochet
inc = 2 sc in the next stitch
dec = single crochet 2 stitches together
BLO = back loop only
F.o. = finish off
(12) = number of stitches you should have at the end of the round/row
( )*6 = repeat whatever is between the brackets the number of times stated
Free crochet pumpkin pattern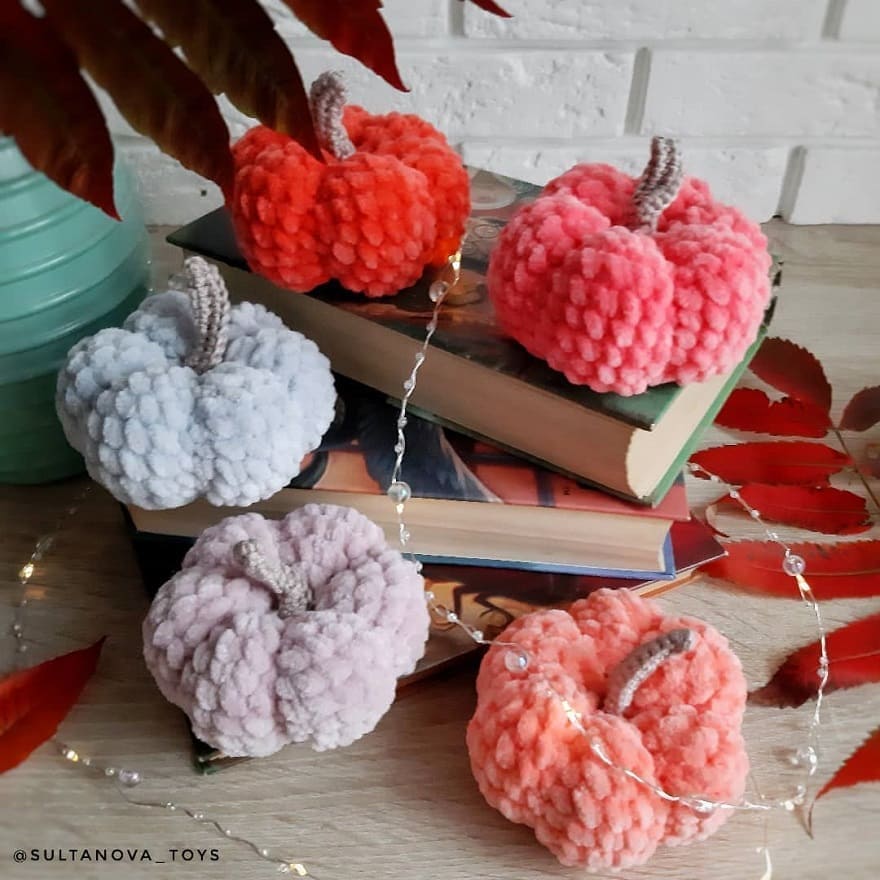 Main
With plush yarn and 3.5 mm crochet hook:
R 1: 6 sc in mc (6)
R 2: (inc)*6 (12)
R 3: (1 sc, inc)*6 (18)
R 4: (2 sc, inc)*6 (24)
R 5: (3 sc, inc)*6 (30)
R 6: (4 sc, inc)*6 (36)
R 7-11: 36 sc (5 rows)
R 12: (4 sc, dec)*6 (30)
R 13: (3 sc, dec)*6 (24)
R 14: (2 sc, dec)*6 (18)
Stuff with fiberfill not very firmly.
R 15: (1 sc, dec)*6 (12)
R 16: (dec)*6 (6)
F.o.

Now we're going to shape the pumpkin using the tapestry needle and the strong cotton thread.
Make the sections of the pumpkin as follows: go all the way through the center, through the stuffing, to the center of the bottom of the pumpkin. Wrap yarn around outside of pumpkin and then reinsert yarn back through the center of the pumpkin, following the same path. Pull yarn tight to create indentation.
Repeat 5 more times around the pumpkin until you have 6 evenly spaced indentations. Tie off and weave in ends.
Stem
With YarnArt Jeans yarn and 2.5 mm crochet hook:
Make 13 ch.
R 1: From the 2nd ch from hook: 12 sc, 1 turning chain
R 2-3: BLO 12 sc, 1 turning chain
R 4: BLO 12 sc
F.o. and leave a long tail for sewing.
Sew edges together to make it a tube.

Sew the stem to the pumpkin top.
More Amigurumi Pumpkin Ideas: