Hello dear Amigurumi Followers
Today we share Amigurumi Witch Hat Free Pattern for you. As you know we share new free amigurumi pattern every day. The main crochets are gazelle, amigurumi bear, pola, crochet panda, penguin, giraffe, llama, pig, bunny, clown, lamb, bee, crochet unicorn, amigurumi doll, fox, penguin, dinosaur, crochet elephant, hippo, monkey, crochet cat, crochet dog and more …
Todays daily new amigurumi free crochet pattern is Amigurumi Witch Hat.
I want to give you some informations about this amigurumi free pattern ; Witch Hat.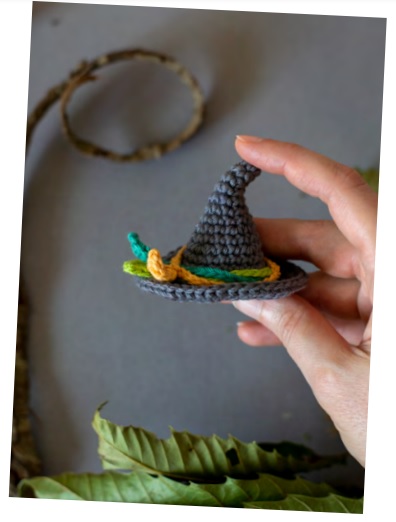 Materials
– Paintbox Yarns Cotton DK (%100 cotton, 50g, 125m/137yds)
>grey (Slate Grey 406)
> lime (Lime Green 429)
> emerald (Slate Green 427)
>mandarin (Melon Sorbet 417)
– 2.75-3.0 mm Crochet Hook
– tapestry needle
Size
6.5 cn / 2.5″ tall when made with the indicated yarn
Construction
Hat is made in one piece from the tip to the brim. The leaves are made separately, they are not stitched to the hat.
Stitches used and
Abbreviations (US terms)
st: stitch/es
slst: slip stitch
sc: single crochet
inc: single crochet increase
hdc: half double crochet
dc: double crochet
FLO: front loop only
Hat
With grey.
Rnd 1: start 6sc in a magic ring [6]
Rnd 2: sc in all 6 st [6]
Rnd 3: (inc, 2sc) repeat 2 times [8]
Rnd 4: sc in all 8 st [8]
Rnd 5: (inc, 3sc) repeat 2 times [10]
Rnd 6: sc in all 10 st [10]
Rnd 7: (inc, 4sc) repeat 2 times [12]
Rnd 8: sc in all 12 st [12]
Rnd 9: (inc, 2sc) repeat 4 times [16]
Rnd 10: sc in all 16 st [16]
Rnd 11: (inc, 3sc) repeat 4 times [20]
Rnd 12: sc in all 20 st [20]
Rnd 13: (inc, 4sc) repeat 4 times [24]
Rnd 14-15: sc in all 24 st – 2 rounds
Rnd 16: working in FLO (inc, 1sc) repeat 12 times [36]
Rnd 17: (inc, 2sc) repeat 12 times [48]
Rnd 18: hdc in all 48 st [48]
Slst in next st. Fasten off and weave in ends.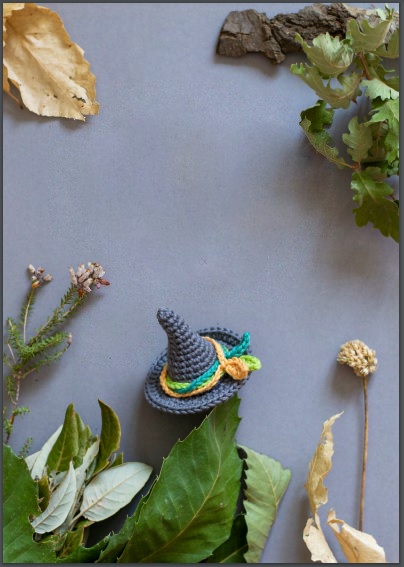 Leaf
Make 3 with colours:
lime, emerald and mandarin.
Rnd 1: ch6, skip the first ch from hook, 1sc, 1hdc, 1dc,
1hdc, slst in last ch, ch30, slst in the first of the ch30
Fasten off and weave in ends.
Slip the rings with the leaf on to the hat.

More Amigurumi Witch Hat Ideas: