Hello dear Amigurumi Followers
Today we share Amigurumi Valentine's Kitten Free Pattern for you. As you know we share new free amigurumi pattern every day. The main crochets are gazelle, amigurumi bear, pola, crochet panda, penguin, giraffe, llama, pig, bunny, clown, lamb, bee, crochet unicorn, amigurumi doll, fox, penguin, dinosaur, crochet elephant, hippo, monkey, crochet cat, crochet dog and more …
Todays daily new amigurumi free crochet pattern is Amigurumi Valentine's Kitten.
I want to give you some informations about this amigurumi free pattern ; Valentine's Kitten.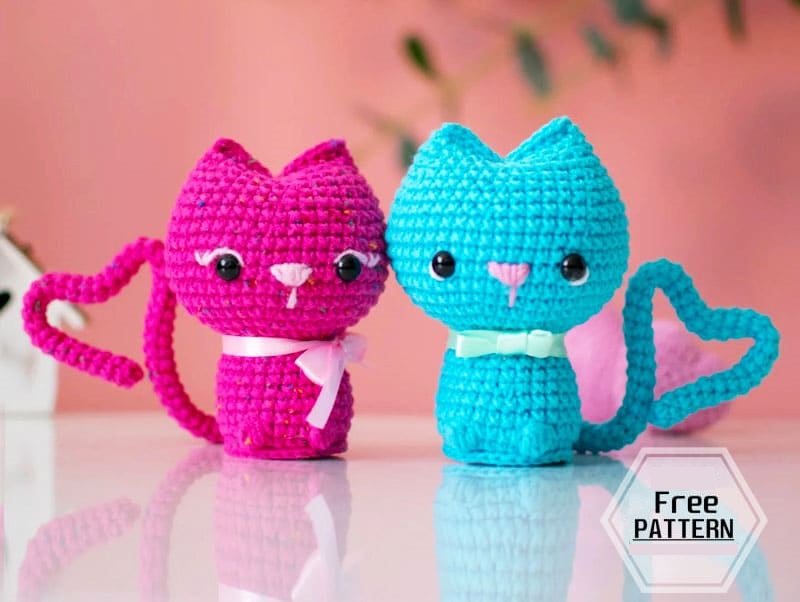 MATERIALS
2 mm crochet hook (size B) Cotton yarn:
fuchsia – 15g / 45m (49 yards) small amount of pink
Polyfill to stuff
A pair of 8mm safety eyes
Tapestry needle
Wire 0.8 mm – approx. 25cm
Pink ribbon

This sample is made with Alize Cotton Gold Tweed (semi cotton yarn): fuchsia #149
Size of finished toy: 3.5″ (9.5 cm) tall
ABBREVIATIONS
ch – chain
sc – single crochet
slst – slip stitch
dc – double crochet
inc – increase (2 sc in indicated stitch)
dec – 2 sc together (decrease)
bo – bobble stitch (5 dc cluster)
(___st) – total amount of stitches in a rnd
( ) Nx – repeat between ( ) N times
rnd – round
st – stitch
Amigurumi Valentine's Kitten Free Pattern:
Body
Rnd01 8sc in magic ring 8
Rnd02 (inc) 8x 16
Rnd03 (sc, inc) 8x 24
Rnd04 (2sc, inc) 8x 32
Rnd05 This rnd work with back loops only: 32sc 32
Rnd06 6sc, dec, 5sc, bo, 4sc, bo, 5sc, dec, 6sc 30
Rnd07-08 sc in each st around 30
Rnd09 4sc, (dec, 8sc) 2x, dec, 4sc 27
Rnd10 sc in each st around 27
Rnd11 (7sc, dec) 3x 24
Rnd12 3sc, (dec, 6sc) 2x, dec, 3sc 21
Rnd13 (5sc, dec) 3x 18
Rnd14 sc in each st around 18
Rnd15 (inc) 18x 36
Rnd16 (5sc, inc) 6x 42
Rnd17 (6sc, inc) 6x 48
Start stuffing with filling material
Rnd18-22 sc in each st around 48
Rnd23 7sc, (dec, 14sc) 2x, dec, 7sc 45
Rnd24 (13sc, dec) 3x 42
Rnd25 6sc, (dec, 12sc) 2x, dec, 6sc 39
Rnd26 (11 sc, dec) 3x 36
Rnd27 5sc, (dec, 10sc) 2x, dec, 5sc 33
If you use safety eyes, it is the best moment to place them between 20 and 21 rnds, leaving 9sc between them.
Stuff it again
Rnd28 (9sc, dec) 3x 30
Rnd29 4sc, (dec, 8sc) 2x, dec, 4sc 27
Rnd30 (7sc, dec) 3x 24
Rnd31 11 sc (you should reach the left side of a cat), flatten the detail and make 12sc 12 through both sides to the end
Fasten off, cut the yarn,weave in end.
Go back to a 5. rnd and crochet in front loops of it : ch 1, slst in each st around, slst in the 1. ch of a rnd. Fasten off, cut the yarn, hide an end.
Take a piece of main yarn and tapestry needle. Insert needle in the bottom of a body between 1 and 2 rnds and bring it out in the top of a head, then insert it back from the opposite side of the last md. Bring out the needle in the bottom of a body, 2 stitches from the entry. Lightly pull both yarn ends and, keeping the yarn tension, tie a knot of both yarn ends. Hide the yarn ends inside of a body.
Take a piece of pink yarn and embroider a nose in a 20 rnd, centering it regarding to the eyes. The height of a nose – 1 sc, the width of a bottom part – 1 sc, top part – 3sc. Make a line under the nose. With the same yarn embroider the eyelashes.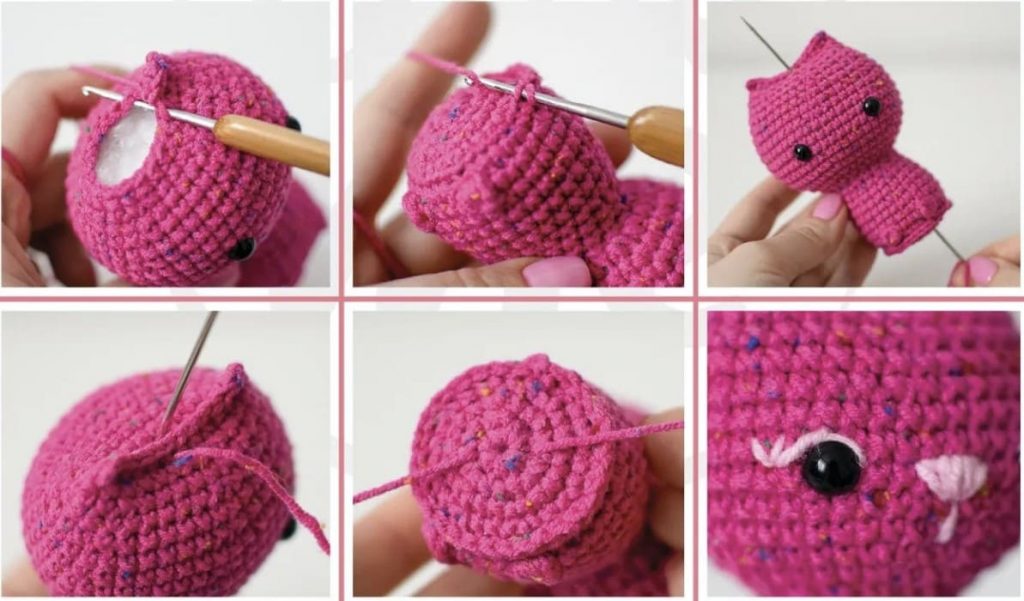 Tail
Rnd01 6sc in magic ring 6
Rnd02-45 sc in each st around 6
Fasten off, cut the yarn,leaving a yarn tail for sewing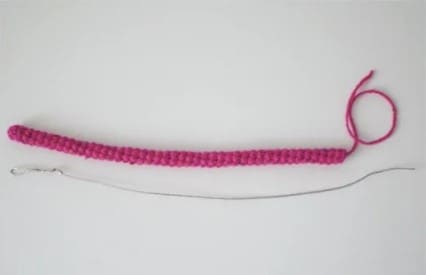 Take a piece of wire and make a loop from one side. Another side of a wire attach to the back between 6 and 7 rnds. Insert the wire inside a tail. Then sew the tail to the body.
Twist the wire into a heart shape.
Tie a ribbon around the neck.

Congratulations! Your Cat is finished!

More Amigurumi Cat Ideas: