Hello dear Amigurumi Followers
Today we share Amigurumi Wendesday Addams Free Pattern for you. As you know we share new free amigurumi pattern every day. The main crochets are gazelle, amigurumi bear, pola, crochet panda, penguin, giraffe, llama, pig, bunny, clown, lamb, bee, crochet unicorn, amigurumi doll, fox, penguin, dinosaur, crochet elephant, hippo, monkey, crochet cat, crochet dog and more …
Todays daily new amigurumi free crochet pattern is Amigurumi Wendesday Addams.
I want to give you some informations about this amigurumi free pattern ; Wendesday Addams.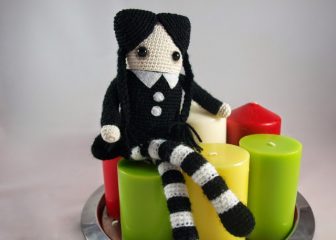 Materials:

♦ Yarn meat color, black and white.
♦ Crochet needle size used according to yarn.
♦ Safety eyes.
♦ Synthetic stuffed.
♦ Crayon black or gray eye shadow.
♦ Felt white.
♦ Sewing needle and wool needle.
♦ Scissors.
Abbreviations:
♦ Rnd.: round
♦ mg: magic ring.
♦ sc.: single crochet.
♦ Inc .: increase.
♦ Dec .: decrease.
♦ ch .: chain stitch.
♦ * … *: Repeat the instructions between asterisks all around.
♦ (N): number in parentheses, total stitches of the round.
♦ Ex .: (30) Total 30 stitches.
Amigurumi Wendesday Addams Free Pattern
Head/ body:

We started with yarn meat or colored thread, with 18 ch and continue:
Rnd 1: 1sc in 2ºch. from the crochet, 15sc, 1inc. in the last ch, we turn and knit on the other side of the chain: 16sc, 1inc in the last ch. (36)
Rnd 2: 1inc, 15sc, 3inc, 15sc, 2inc (42)
Rnd 3 – 18: 42sc
Put safety eyes, in the round 13. Can we expect to weave the hair, to adjust well the eye level, but remember to put them before closing the doll!.
We changed to black yarn. For the color change you can apply the method of "perfect color change".
Rnd 19 – 32: 42sc.
Rnd 33: *6sc, 1inc* (48)
Rnd 34 – 35: 48sc
Rnd 36: *7sc, 1inc* (54)
Rnd 37 – 38: 54sc
Rnd 39: *8sc, 1inc* (60)
Rnd 40 – 41: 60sc
Rnd 42: *9sc, 1inc* (66)
Rnd 43 – 45: 66sc
If you have not laid safety eyes, this is a good time, because in the next round will close the body of the doll. Stuffing first, but not too much to keep the square shape.
We join the two body parts 33sc. If you have no yarn in the corner of the dress, do not worry, continues to knit single crochet to the corner and from there connect the two parts.
Rnd 46: 33sc joining the two parts (closing body).
Rnd 47: 1ch. and turn. We 33sc in back loops, turn and knit 33sc on the other side of the previous lap. This is to dress the wheel. (66)
Rnd 48 – 49: 66sc. Fasten off and cut the yarn.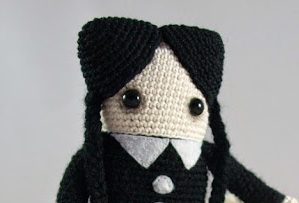 Hair (x2):

Whit black yarn:
Rnd 1: 6 sc in m.r.
Rnd 2: 6inc (12)
Rnd 3: 12sc
Rnd 4: * 1sc, 1inc* (18)
Rnd 5: 18sc
Rnd 6: * 2sc, 1inc * (24)
Rnd 7: 24sc
Rnd 8: * 3sc, 1inc * (30)
Rnd 9: 30sc
Rnd 10: * 4sc, 1inc * (36)
Rnd 11: 36sc.
Fasten off and cut, leave a long tail for sewing head. Put in the corner, and sew. Then we make braids.
To make braids:
Black yarn roll up on, for example, a DVD case, 12 times. We cut one hand and together about 3 strands, which will bent 6. It is estimated, you can do depending on the thickness of braid you want to get. We put the strands into the bottom corner of each of the hair, helping to crochet, do the braid and tie another piece of black.
Legs (x2):

With black yarn:
Rnd 1: 6cs in a mg
Rnd 2: 6inc (12)
Rnd 3: * 1sc, 1inc * (18)
Rnd 4 – 7: 18sc
Rnd 8: * 1sc, 1dec * (12)Here we started making socks with black and white stripes. We changed to white and let weaving 3 round white and 3 round black.
Rnd 9 – 38: 12sc –> we stuffing the leg as we weave, we stuffing more by foot and less as we go, to stay down and wrist can be granted.
Rnd 39: together the edges of the leg and do 6sc to close.
Arms (x2):

With yarn ecru or meat:
Rnd 1: 6sc in mg
Rnd 2: 6inc (12)
Rnd 3 – 4: 12sc
Rnd 5: * 1dec, 4sc* (10)
Color change to black:
Rnd 6 – 12: 10sc
Rnd 13: 2sc, 5sc in back loops, 3sc (10) –> this is to form the elbow, and the arm is slightly bent.
Rnd 14: 2sc, 5sc free bonds in the above (which we've done before looping back), 3sc (10)
Rnd 15 – 24: 10sc –> Let stuffing, more for the part of the hand and less overhead.
Rnd 25: the edges together and knit arm 5sc to close. Finish off and cut, leaving a long tail to sew the body.
Mounting:

♦ Boil the legs in the middle of the steering wheel dress.
♦ Sew the arms on each side of the body, up to the change of color of the face and clothing.
♦ With a wax pencil gray paint around the eyes, dark circles to simulate.
♦ We cut pieces of white felt, based on image, to the collar and two buttons. The sew the body.