Amigurumi Plush Cat in a Blouse Free Pattern
Hello dear Amigurumi Followers
Today we share one free amigurumi crochet pattern again for you. As you know we share new amigurumi free patterns every day. The main crochets are amigurumi gazelles, amigurumi bears, amigurumi pola, amigurumi pandas, amigurumi penguins, amigurumi giraffes, amigurumi llama, amigurumi pigs, amigurumi bunny, amigurumi clowns, amigurumi lambs, amigurumi bees, amigurumi unicorns, amigurumi dolls, amigurumi foxes, amigurumi penguins, amigurumi dinosaurs, amigurumi elephants, amigurumi hippos, amigurumi monkeys, amigurumi cats, amigurumi dogs and more …
Todays daily new amigurumi free crochet pattern is Amigurumi Plush Cat in a Blouse.
I want to give you some informations about this pattern ;

For the work, the author used hook # 3 and Himalaya Dolphin Baby plush yarn. The legs, body and head of the kitten are knitted in one piece, the rest are sewn on. From the description of the diagram, you will also learn how to crochet a blouse for a toy from cotton yarn. The height of the finished knitted cat is about 12 cm.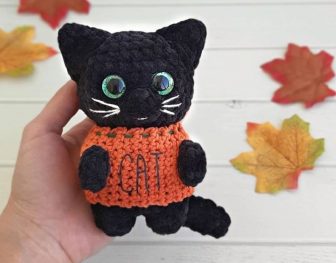 Necessary materials:

– Thread Himalaya Dolphin Babu black or other color (less than half a skein)
– Threads for sweater Gazzal Baby Cotton
– Hooks 3.0 mm for a cat and 2.5 mm for a jacket
– 14 mm eyes on safety mount
– 10 mm spout on the mount
– Stitching needle
– White cotton thread for mustache embroidery
– Scissors, marker, lighter
– Filler
Legend:
KA – amigurumi ring
vp. – air loop
sbn. – single crochet
ss. – connecting column
pr. – increase
kill. – decrease
(…) * 6 – repeat the steps in brackets 6 timesРЕКЛАМА
Legs and body

Legs (2 parts)
1.7 sc. in KA
2. 7 sbn., ss.
Cut the thread at one leg, tighten.
Do not cut off the second one, continue to knit the body :
3. Dial 1 VP, attach the second leg, knit 7 sbn on it, etc. on an air loop, 7 sb. along the first leg, ave. along an air loop (18)
4. (2 sbn., ave.) * 6 times (24)
5-9. 24 PRS (5 rows)
10. (2 sc., Dec.) * 6 times (18)
11. (1 sc., Dec.) * 6 times (12)
12. 12 pr. (24)
13. (5 sc. , etc.) * 4 times (28)
14-18. 28 PRS (5 rows)
19. (5 sbn., Ub.) * 4 times (24)
Insert eyes between 15 and 16 rows.
Between the places of installation of the peephole – 4 sbn.
20. (2 PRS, UB.) * 6 times (18)
Stuff the body and head.
21. (1 sbn., Ub.) * 6 times (12)
22.6 ub. (6)
Add filler, pull off the hole.
Hide the thread.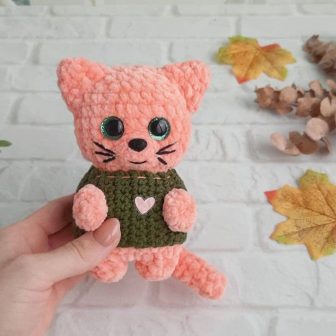 Muzzle
1.6 sbn. in KA
2.1 sbn., pr., 2 sbn., pr., 1 sbn., ss.
Insert the spout between 1 and 2 row so that the increments are on the sides of it.
Sew the muzzle close to the eyes.
Cut the pile of the muzzle a little.
Embroider the mustache and mouth with white thread.
Handles (2 parts)
1.6 sbn. in KA
2-3. 6 PRS (2 rows)
Fold the handle in half and knit 3 sc.
Sew the handles vertically, not evenly on the sides, but slightly closer to the front.
Ears (2 parts)
1.6 sbn. in KA
2.6 sbn.
3. (pr., 1 sc.) * 3 times (9)
4. (pr., 2 sc.) * 3 times (12)
Sew on the ears so that they look like a cone.
Or whatever you like.
Tail
1.6 sbn. in KA
2-10. 6 PRS (9 rows)
Sew on the tail.
We knit a jacket with a rectangle.
The inlaid edge is the middle of the back.
Depending on the density of knitting and where the handles are sewn, the number of rows may need to be changed.
Therefore, we knit and try on.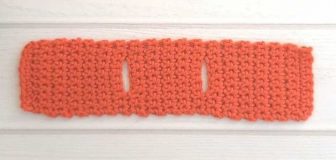 Dial 10 VP.
In the second loop from the hook:
1-12. 9 PRS (12 rows)
We make slots for the handles:
13.2 sbn., Dial 6 in., Retreat 6 loops, 2 sbn.
14-21. 9 PRS (8 rows)
22. We make the second slot for the hands:
2 sc., Dial 6 in., Retreat 6 loops, 2 sc.
23-34. 9 PRS (12 rows)
Make eyelets and sew on buttons
Thread along the top edge and tie at the back.